2015 Hot Kisses
PA - Lake Erie
Size: 375ml or 187ml - Bottle
Can ship to addresses within PA, OH, NY, TX, CA, FL, VA, IL and 32 other states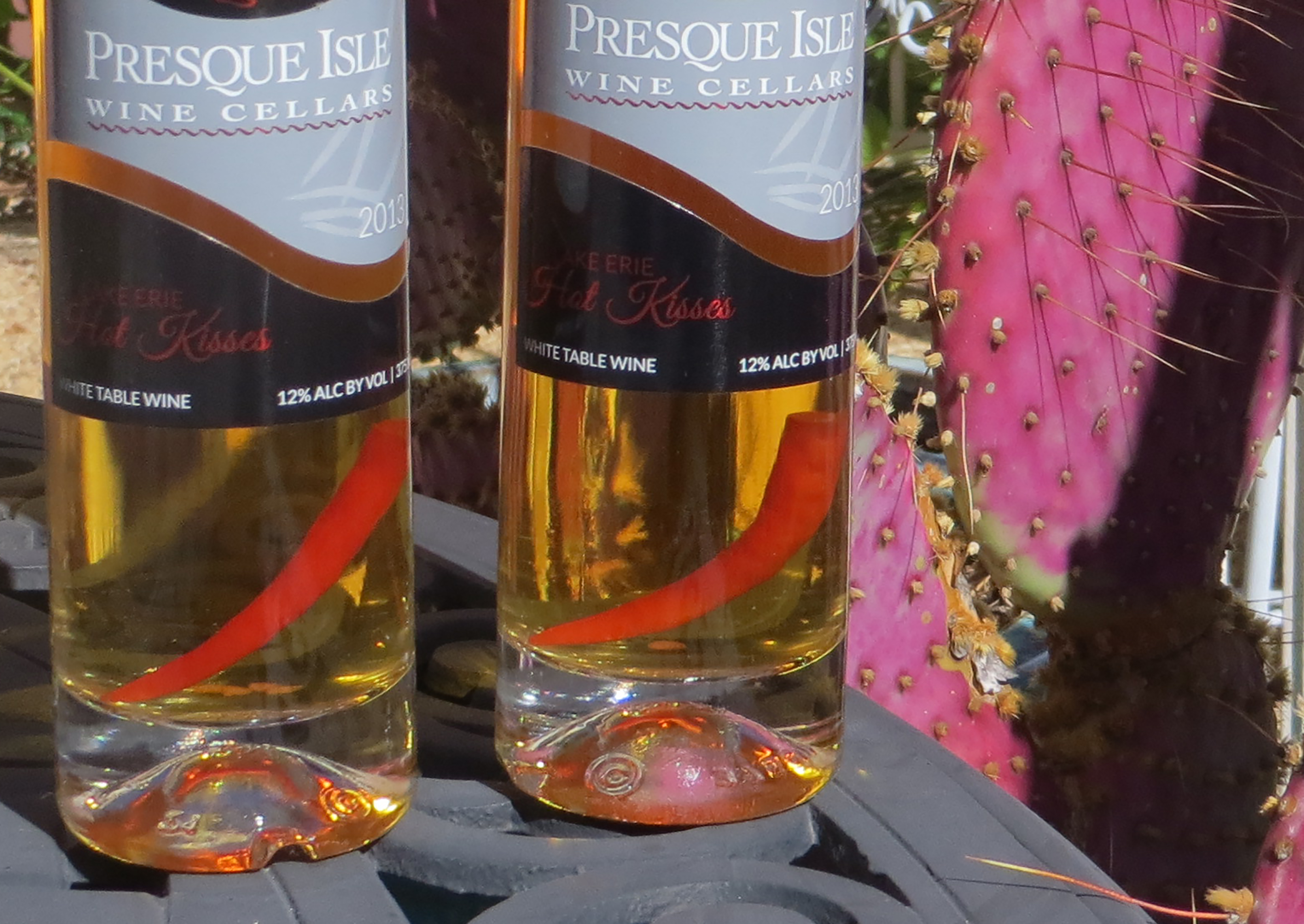 Pick your bottle size - 375ml or Little Kisses 187ml size perfect for the solo Kisses lover or for couples just wanting to share a private Kiss.
One of our newest wine creations is a bold new partner for our legendary Eskimo Kisses. We've added a single Thai chili pepper to our classic ice style dessert wine and the visual and taste effect is astounding. The rich sweetness and the infused pepper spice balance each other perfectly for an exquisite and unexpected taste experience. The golden sweetness fills your mouth but is not too sweet and is joined by a provocative burst of spice that finishes into a lingering luxuriant warmth that is not too hot and not too spicy.
If you find dessert wines a little over the top for your sweet tooth, you'll be pleasantly surprised by Hot Kisses. If you already love our Eskimo Kisses, then try spicing up your next special dining experience by introducing some Hot Kisses!
Enjoy Hot Kisses with food or all by itself. Great with seafood, Indian food, and meats or try it with chocolate desserts! Also a great foundation for some inventive craft cocktails.
Download our Kisses Dessert Pairing Suggestions
Download our Kisses Cheese and Savories Pairing Suggestions
Download our Kisses and Tails cocktail recipes
Current Vintage Awards
Gold Medal – 2018 Pennsylvania Farm Show Wine Competition
Gold Medal – 2017 Florida State Fair International Wine Competition
Recent Vintage Awards
Silver Medal – 2015 Finger Lakes International Wine Competition
Silver Medal – 2015 Pennsylvania Wine Competition
Bronze Medal – 2016 Mid America Wine Competition

Review By Jessi See other reviews
5-Stars 09/23/2015
INCREDIBLE TASTE!!
Tried the Hot Kisses at Seven Springs wine festival, it is AWESOME!!! The description they give is ON POINT! It's worth the price and the short wait!
Taste & Character
Acidity: High
Ageability: Long (Greater than 5 years)
Body: Full