Shop by Category
Fresh California Central Valley Juice Pails
---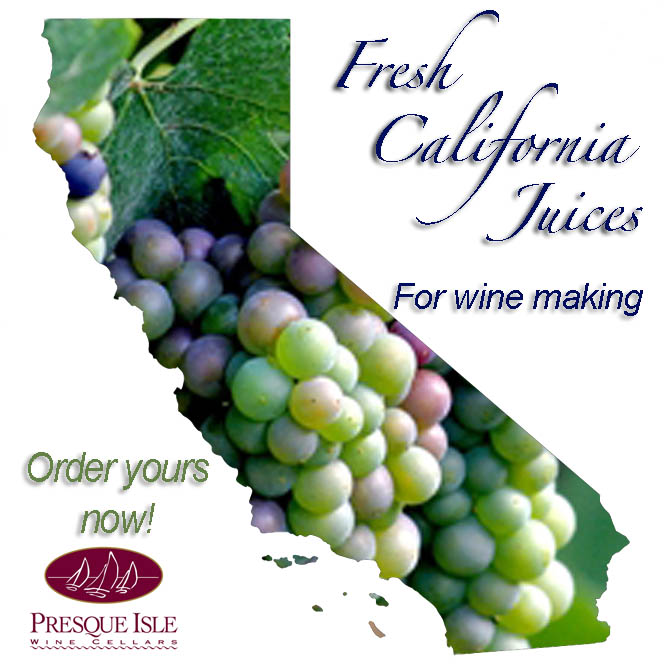 ORDER DEADLINE HAS BEEN REACHED FOR THIS PRODUCT! CALL TO INQUIRE ABOUT EXTRA AVAILABILITY. 814-725-1314
The juice in these pails and drums come directly from the Central Valley, California's largest wine region, stretching for 300 miles and producing 75% of California's finest wine grapes. No yeast is added to these juices.
Varieties Available: We are offering 14 varieties of these juices from the Central Valley, available in 6 gallon pails or 58 gallon drums (no yeast added). See more details about these varieties.
Quantity
White Variety
Blush Variety
Red Variety
1-9 Pails
$56.00
$56.00
$56.00
10+ Pails
$54.00
$54.00
$54.00
58 Gallon Drums
$470.00
$480.00
$480.00
1000L Tote
(Order by Phone Only)
$2,203.50
$2,236.00
$2,236.00
No Yeast Added. What does this mean to you, the winemaker? Rather than having the same yeast added to every variety of juice, we are giving you the ability to choose the best yeast for each variety. Our fermentation packets offer our Winemaker's selections of the optimal yeast for each variety. Many of these yeast strains are only packaged in quantities suitable for commercial applications, but we are breaking them down in quantities suitable for 6 gallons batches. Along with the yeast, each packet includes pre-measured quantities of nutrients to aid fermentation. These packets will give you the same tools professional winemakers use to achieve the best results.
Commercial Customers. Please contact us first to help locate whatever varieties you may need. If it is out there, our strong relationship with our growers will allow us to find it and get access to it. Contact Randy at 814-725-1314 ext. 209 first for all of your grape and juice needs.
---
Click the "Select" box and choose a quantity for the product you would like to order, and then click "Add to Cart."