Shop by Category
Frozen Spanish Juice and Must: Product Details
AVAILABLE VARIETIES ABOUT THE PRODUCT PROCESSING & FERMENTING ORDER INFO WHEN CAN I ORDER?
---
Available Spanish Must Varieties
Sold in Frozen 5.3 Gallon (20 Liter) Pails
Red Musts*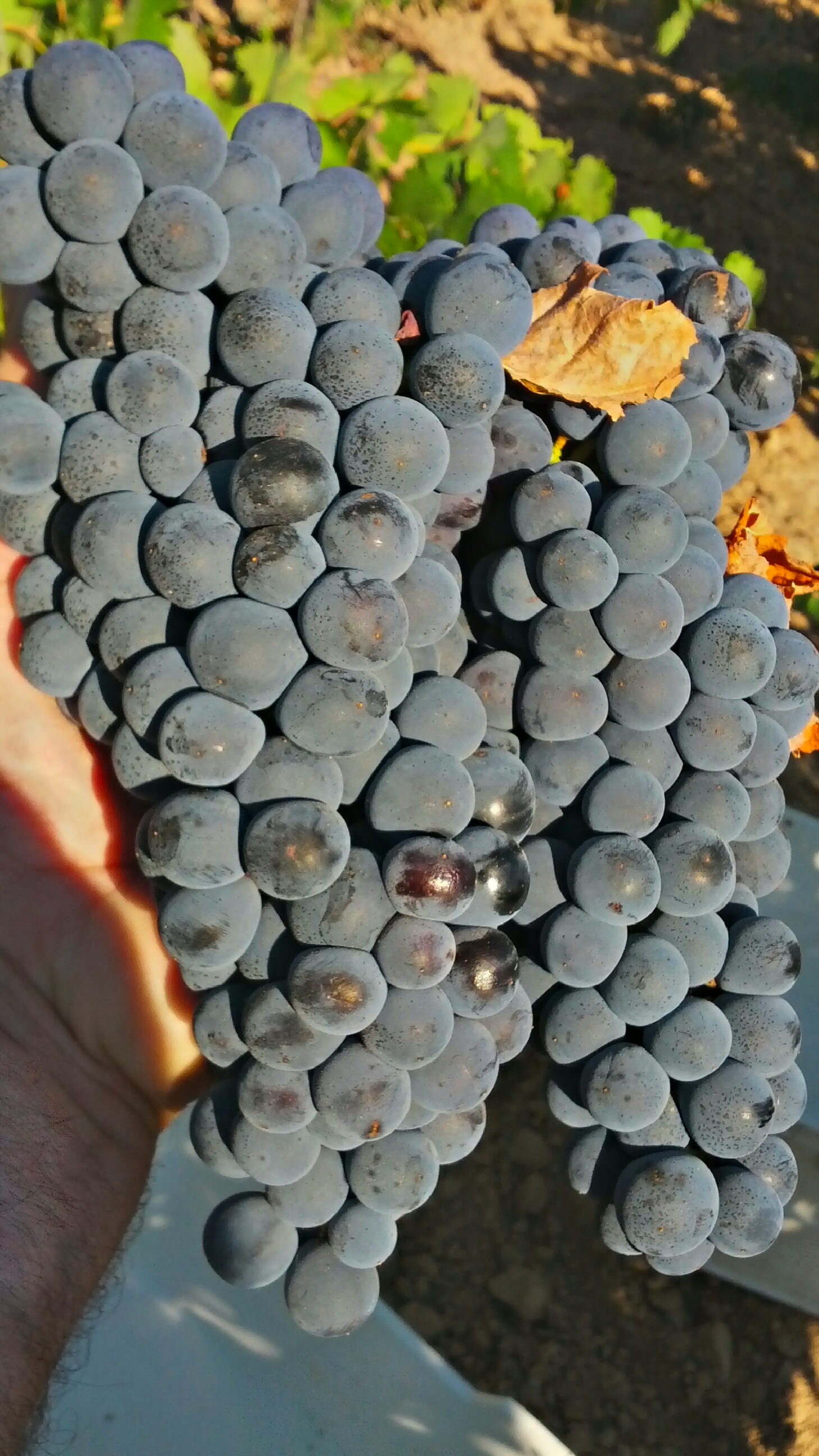 Grenache Noir- Grenache grapes are grown throughout the Mediterranean and are a dominant grape variety of Langedoc, Cotes Du Rhone. It finds itself in up to 90% of the great Chateau Neuf Du Pape wines. This variety is more robust in color and flavor than California Grenanche.
Carignan- A heavy producer, up to 11 tons per acre in California; yields are held back in accordance with Montsant Appelation regulations, dramatically increasing its quality. Deep rich color, medium tannins, with loads of red berry fruit and earthy notes on the nose and a higher level of acidity than other grapes of the region. It is a perfect blending grape, but is also perfectly well left alone as a 100% varietal.
Merlot- The long growing season and current practices of drip irrigation and crop thinning means that these vines grow to full ripeness. They represent the youngest vines we harvest from, at 20 plus years. An excellent varietal on its own or with a splash of Cabernet Sauvignon.
Cabernet Sauvignon- This grape does exceptionally well in this warm, long growing climate loving the excellent day/night temperature variation. Produces rich, full-bodied wines with tannic deep black currant flavors.
*Some type of press is needed for the red must. You can use a wine press, or a simple Nylon Straining Bag to squeeze the juice and discard the lees.
---
About the Product
The Must is from the Catalan region of Spain which is populated with fiercely independent people grow grapes that reflect their history. With good fortune, these grapes are grown in a region with tremendously consistent climates year in and year out. The grapes develop to full ripeness with respect to Brix, seeds and phenolics, while still maintaining excellent chemistry. Rich color extraction and density of flavor are signature qualities of these grape varietals.
Growing Region
The growing region of Montsant is quite unique. The appellation is about 60 miles from the Mediterranean coast in the Catalonian province of Tarragona in northeastern Spain. This rugged, sun drenched region, known for producing powerful reds gets little rain creating controlled irrigation that is used to assure the grapes get just the right amount of moisture at just the right times. The higher elevations in this mountainous appellation allow for long growing seasons, warm days and cool evenings. The soil is remarkably fertile, and contains a black limestone the locals call licorella, which distinguishes the Montsant appellation from the famous Priorat DO, which it nearly totally encircles. The long seasons, warm days, cool evenings, and controlled irrigation mean that the grapes can mature at the right pace to be their best.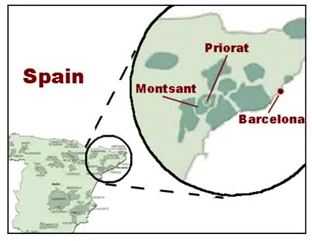 These premium quality products come from a single family-run estate where the producer takes great pride in assuring the grapes that go into these must pails are of the same quality as those they use in their own wine production. Our supplier personally visits the estate during harvest season to observe and verify the must pails are being prepared to those standards. The musts are crushed, destemmed, and put directly into pails at the estate with juice, skins, and seeds together so you can get the full benefit of the character, color, and harmony of these grapes. You are bringing the best of Spain right into your cellar!
Watch this
informative and entertaining video
from Fermentations about them traveling to the Catalan region of Spain to return with these remarkable grapes of the finest quality.
Characteristics and Chemistry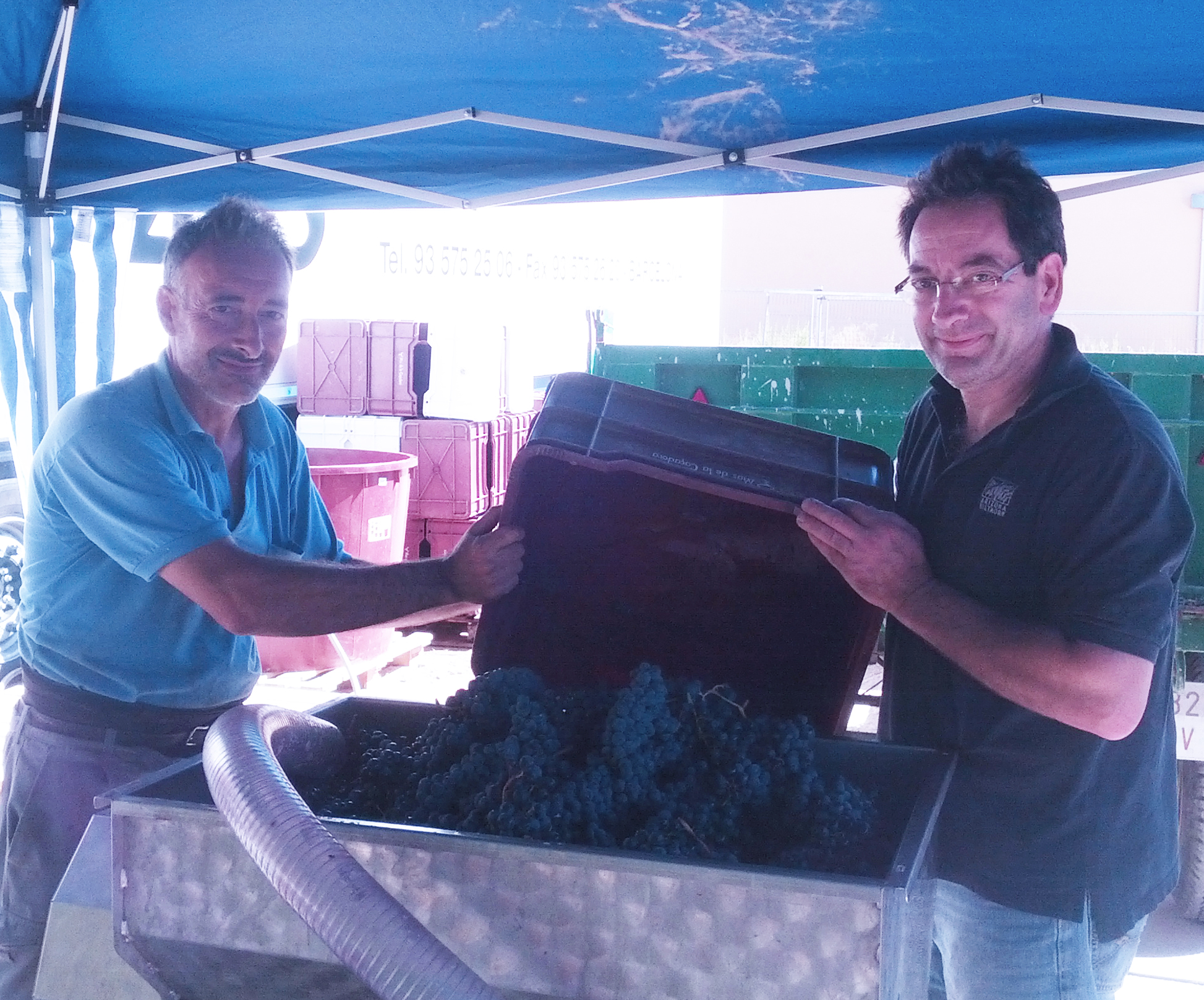 • Alcohol Levels. Typical alcohol levels range from 14 to over 15%, while maintaining good ph levels.

• pH Levels. Across all varieties, pH at harvest ranged from 3.3 to 3.5 for the reds over a 2 year span, with the Carignan in 2013 at 3.1

• T.A (Titrable Acidity). Readings appear to be low (4-5 grams per liter across the reds), but are well balanced upon completion.

• Overall. Well matched with the excellent pH reading normally seen and are well balanced upon completion. Minimal intervention is the typical standard of winemaking practiced in the region.
Shipping, Pre-Ordering and Pick-Up
The harvest in Spain usually begins the second week of September, stretching into the third week. The supplier works with the grower along with the winery to purchase the grapes that are of best quality. After being crushed and destemmed, the grapes will be loaded into a reefer and frozen at 18°C (0°F) at the crushpad. The must will arrive in North America in mid/end of October and Presque Isle Wine Cellars should receive the must a couple weeks after that.
Call to inquire about next pick-up dates
Live to far away? Call 800.488.7492 to inquire about shipping of the Spanish Must Pails to you!
*Additional fees will apply
Details about specific must, juice, grape and young wine sales will be released via our website, Facebook page and through email. Please make sure you are signed up for our email list to get the latest updates.
Order Spanish Must Pails Soon!
---
Processing and Fermenting the Must
Recommended Yeast and Culture Needs
Only 2 grams of sulfite per bucket is added at the crushpad. By the time the grapes thaw, ppm is below 50. The use of yeast nutrients prior to pitching with yeast and when sugars are 2/3rds depleted is a good practice with these grapes to help ensure complete fermentation of high brix musts and yeasts do not ferment under stress.
When selecting a yeast culture, make sure that the alcohol tolerance is high enough to produce 15% alcohol wines. Also, ensure your selected yeasts are capable of fermenting to the brix levels of the must.
We recommend the use of the following yeast strains with the specified varietals.
View Presque Isle Wine Cellars' complete Yeast Selection Chart to see our full recommendations for other varietals.
Oak Options
PIWC received some of the Spanish Must to test. We used American Medium Toast Oak Chips for the Grenanche Noir and Cabernet Sauvignon during primary fermentation and later followed up with American Medium Oak Spirals during the aging process. This yielded excellent results, and is an option for you to use with your wine, as well.
Equipment Needs (Optional)
In addition, our winemaker has recommended the following products in order to assist with the processing and fermentation of your Spanish Must:
*Some type of press is needed for the red must. You can use a wine press, or a simple Nylon Straining Bag to squeeze the juice and discard the lees.
Spanish Must Blending Chart
The suppliers of our Spanish Must Pails have suggested the following blending options that they themselves have tried successfully.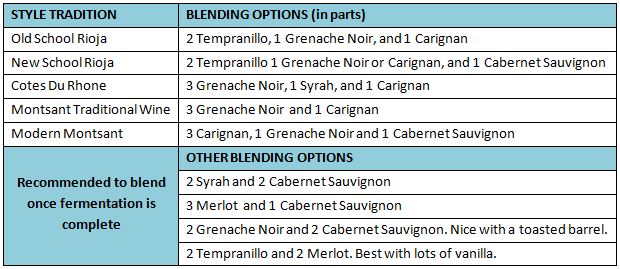 ---
Winemaking Equipment & Supplies
PIWC has a comprehensive inventory of winemaking supplies and equipment to accompany your grapes and juice. You can browse our online store and place orders online, by phone, or at our sales desk. You can save time on pick-up day by placing your equipment orders ahead of time so we can have them waiting for you when you pick up your grapes and/or juice.
For new winemakers, our PIWC Winemaking Kits are an attractively priced bundled package with the basic equipment you will need to make your juice into your first batch of wine.