PIWC's Cabernet Franc Among Top 10 Wines in PA Wine Society Competition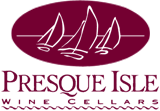 News Release
FOR IMMEDIATE RELEASE
January 16th, 2017
For more information contact:
Randy Branch 814-725-1314 ext 209

PA WINE SOCIETY ANNOUNCES PRESQUE ISLE WINE CELLARS' CABERNET FRANC AMONG TOP TEN OF THE PA WINE EXCELLENCE AWARDS XV
Presque Isle Wine Cellars' Lake Erie Cabernet Franc 2013 has been named by the Pennsylvania Wine Society as among the top ten wines of the PA Wine Excellence Awards XV. A record number of 91 wines representing 19 wineries were entered this year, and the organization stated that "the quality is higher than ever; the wines are superb." A full list of the top ten wines can be found at http://www.pawinesociety.com/.
The top scoring wine will be announced at the PA Wine Excllence Awards XV to be held at 2pm on January 22nd at the Hilton Harrisburg, One North Second Street in Harrisburg, PA. Also at the event, attendees will have the chance to taste the top 10 scoring wines. The winery representative of the winning wine will be given the PA Wine Society's plaque to display at their winery for the entire year. The top scoring wine of the opposite color will also be awarded a framed certificate. Presque Isle Wine Cellars' very own Doug Moorhead, Owner and Founder, will be in attendance to discuss the wine with attendees and accept the award if Presque Isle Wine Cellars' Cabernet Franc is the winning wine.
ABOUT PRESQUE ISLE WINE CELLARS
Presque Isle Wine Cellars is a family-owned wine making supplies and commercial winery business located in North East, PA, in the heart of the beautiful Lake Erie Wine Growing Region. We began operation in 1964 and have been a leader in the winemaking supplies and equipment business since then. In 1969 we became one of the first two Pennsylvania wineries to open since Prohibition. We are proud to produce quality wines that consistently win national awards in wine competitions.
-###-

See PDF version here.