2014 Local Harvest Has Concluded. Thank you for everyone who made it successful.
---
Kris Kane, our Executive Winemaker, has released a harvest report for the 2014 Fall Harvest. A downloadable PDF of this grape report is available for your convenience.
We hope that you had a great 2013 vintage and a great summer. It is just about time to start the 2014 harvest. As some of you may know we experienced one of the worst winters on record. With that, it is safe to say that we suffered significant damage in certain blocks of our vineyards. The V. vinefera varieties took the brunt of the winter on the chin; we also have some significant injury in the hybrid vineyards too. The Natives came through virtually unscathed.
We have been closely monitoring the damage in these blocks to see just how serious the damage was. We are now at the point we can see just how severe the winter injury was in our vineyard blocks.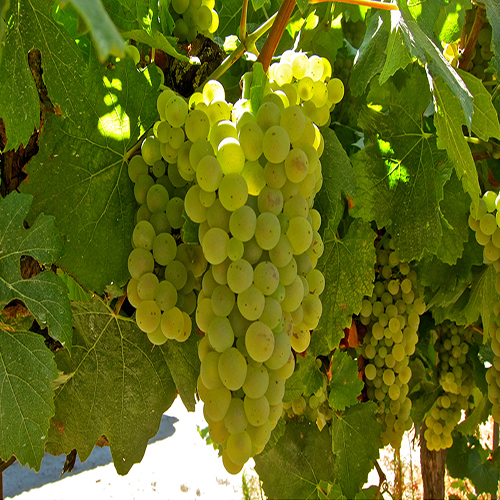 Early on the fear was that the V. vinifera blocks were completely killed which would affect us not only this year but for years to come. As it turns out a good portion of our vinefera vineyards will not have a crop this year but the silver lining is that they were not killed all the way (which was the worst case) and a majority of these damaged vines pulled through and put up new shoots. This is great news because it means that the vineyards will not need to be replanted and the vineyards will be back into production sooner. Certain hybrids are showing the same thing as well.
We are working diligently with our growers and doing everything we can for our valued customers to offer the highest quality fruit and juice for this upcoming vintage.
Sincerely,
Kris Kane
PIWC Executive Winemaker
---
Local Grapes and Juice and CA Grape Availability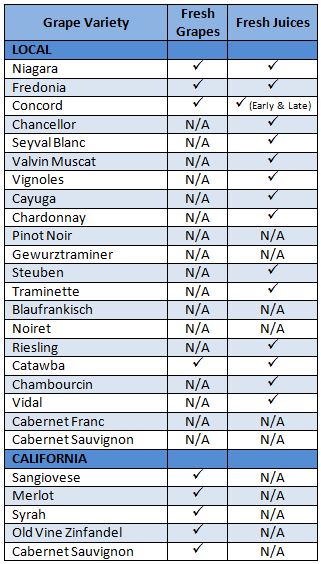 Our executive winemaker, Kris Kane has made available the expected availability of local grapes and juices, as well as for CA fresh grapes, for the 2014 season so that you can make the best decision in planning your 2014 grapes and juices purchases.
We highly suggest that you consider our available CA Grapes and Juices in addition to your local purchases, as many local varieties typically available have been affected by the harsh winters and will not be available for sale. We will be accepting pre-orders for grapes by the pound and ton. Pricing will be based on the volume you purchase. You can pre-order your local juice online or by phone and must be picked up at the winery. Grapes will only be sold via fax or over the phone.
For all the details, visit our Local Harvest page if you are ready to purchase.
We will have a better estimate of when you can pick up your grapes when it gets closer to harvest. These varieties are also subject to change due to Mother Nature and will be updated as the harvest and pre-sale date nears.
Visit our Grapes and Juices pages to stay up to date on all developments Also like us on Facebook and be sure you are on our email list to ensure you don't miss any Fresh Grapes and Juices news.

OR