Shop by Category
2018 Winemaker's Harvest Report
Scroll down to see earlier reports
2018 Winemaker's Growing Season Notes and Observations
Report 8 - October 15th, 2018
As I look outside the window, it's noteworthy that the trees are still mostly green, with just a few splashes of color showing. It's is mid-October and by now we are usually at, or approaching, the traditional peak fall color time. With the warm weather and high humidity we've had, the trigger for deciduous leaves to turn color and fall off the tree hasn't completely arrived. The last part of the week, though, has seen a shift into more typical fall weather. The temperatures have dropped into the 40's and 50's creating what could best be described as a big refrigerator for the grapes. The sun is mostly hidden behind clouds (with a few exceptional days), so little ripening is happening in these conditions—it is too cold and too sunless. At the same time, molds, mildews, insects, and other disease organisms are also tamped down, removing some of the pressure we were feeling before to harvest before too much rot sets in.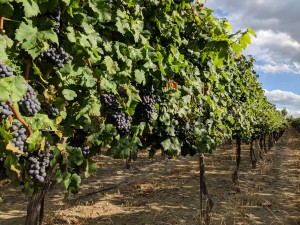 The plan now is to take in what has to be taken in and let the rest hang if they are still sound. There are sunny days ahead in the forecast, and as long as the leaves are still green and capable of photosynthesizing, we can still gain some nice ground with achieving riper flavSzklenski cf 181010 (1)ors. The picture of Cabernet Franc in the Szklenski Brothers' well-managed vineyards shows a balanced crop load, exposed fruit, and a clean vineyard floor that allows good air movement through the vines. What isn't seen in the photo is that because of the heat and humidity in the days just prior to this photo, Botrytis is starting to develop on some of the clusters. The weather forecast was for a period of rain, which would have allowed the Botrytis to take over, so we harvested this vineyard the next day to avoid losing quality. If the weather had held, the vines would have been in great shape to continue ripening. We would have loved to keep these grapes hanging longer, but such are the choices we must make sometimes.
I had a conversation with another local winemaker who buys from some of the same vineyards we do. Both of us have seen conditions in other Eastern US regions, and we both agree that our local vineyards have been very fortunate this season by comparison. Most other areas in the East are having a much harder harvest than we have had, with excessive rain and accompanying disease pressure.
Bob Green
PIWC Executive Winemaker
Report 7 - October 6th, 2018
Planning for harvest began many weeks ago: reviewing past sales and predicting future sales; taking stock of existing inventory and grower crop estimates; and matching that to sales and predictions of future sales. There are also considerations of the quality of the crop as it appears (and as we hope as it appears to be developing. These are all moving parts, some subject to rapid change, but they are important to take into account and are the basis for making decisions not only for how much of each variety to take in (fruit-wise), but how we put it to use.
We're now well past the midpoint of harvest, and while we can't ignore what is happening in the vineyards, we are also increasingly focusing more on what's happening in the winery. For the most part, we have had a good harvest, both in terms of quantity and quality. It's not perfect, of course, and as we move through the season, the warm and humid weather is starting to take its toll on the fruit, with conditions more susceptible to rots showing up and potentially reducing yields and quality. Growers sometimes overestimate the tonnage (it's not always easy to estimate) in a vineyard and deliver less than anticipated. The well-laid plans from earlier in the season may now have to be tweaked a bit as conditions and information change to ensure that the absolute best quality is realized for each wine produced, and that we meet our production goals for each wine.
So, now the focus is shifting. We're still in communication with growers, and still checking on grapes still hanging. But as we bring in more grapes, tanks are getting filled up, and space is becoming more of a premium. We're starting fermentations in new juices, monitoring existing fermentations, and racking fermented young wines to storage tanks and barrels. Successful winemaking requires flexibility and adaptability, and this is where we are now, adapting the plan to the reality of the harvest, as it's happening.
In some cases, decisions need to be made with regard to a wine's style. For example, a Cabernet Franc vineyard might need to be harvested earlier than we would like, but this will make it good candidate for our (new!) dry rosé in the upcoming year. This will allow us to minimize contact with the skins, which at this point have an abundance of less-than-ripe tannins, and would result in a coarse, overly astringent red wine if we were to make it in that style. Luckily, we have other vineyards with Cabernet Franc that are holding up better for later harvest, and these will be better candidates for our classic Cab Franc traditional red wine and our new Scarlet Kisses ice-style wine.
Looking ahead, the first Vidal will be harvested this week, followed by Catawba. After that it's mostly reds—the Bordeaux varieties (Cabernet Franc, Cabernet Sauvignon, Merlot, Carmine), Teroldego and Chambourcin—to finish up the year. Stay tuned!
Bob Green
PIWC Executive Winemaker
Report 6 - September 28th, 2018
In our local vineyards, we are still looking at a vintage of very good quality. For the most part, the weather has been relatively hot to this point, but the last few days have the temperature dipping into the low 50's/high 40's in the night, with daytime highs in the 60's. The air and even the clouds have changed, bringing that crisp clarity of autumn that is so typical this time of year. We've avoided the rains so far that have adversely affected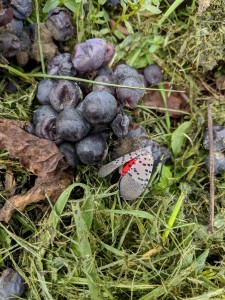 many Eastern vineyards. We're a little over halfway through harvest now, and what is left is mostly red varieties, plus the late-season whites, Vidal and Catawba. Cabernet Franc and Carmine are nearly ready, and we'll let them hang as long as the weather lets us. With cooler temperatures, we'll need ample sunlight to continue the ripening process, developing the desired flavors in the fruit. Rain is in the forecast, and it will now be a dance with the weather to determine to the right time for harvesting these late-season varieties.
The harvest news has not been so good this year for vineyards on the other side of our state. I had the opportunity to spend a day at several vineyards in southeastern Pennsylvania last week. We often talk about the Pennsylvania wine industry as a single entity, but it is, in reality, quite diverse. This is a big state, and the growing conditions (terroir, if you will) vary greatly from one part of the state to the next, and this has played out in a big way this year. Pinot Noir was being harvested while I was there, and the incessant rain the region had during the growing season has taken its toll on the crop—heavy Botrytis and rot had set in. The leaves had also been infected with mildew, reducing their photosynthesis ability and ultimately, the ability of the vine to ripen fruit. The result was that a good portion was dropped to the ground as not fit for wine. As if this was not enough, that area is also dealing with the spotted lanternfly, an invasive species that came into that area from China and can severely damage a vineyard (among other things). The accompanying photo shows it all: dead leaves from mildew; rotten, heavily Botrytised fruit; and a (dead) lanternfly.
What is most remarkable about this season are the responses of the vineyard managers and winemakers to these factors that are clearly beyond their control. All efforts were, of course, made in the vineyard to minimize the damage from each of these events—appropriate sprays, pruning, and culling of the fruit at harvest—and the intent of the winemaker is still to make the best wine possible, adapting the process to produce the style of wine that reduces the problems and highlights the good. Hats off to these people as they are put to task to make the most out of a very troublesome vintage. The skill of Eastern winemakers who routinely produce good and interesting wines while negotiating difficult conditions and challenges their western counterparts seldom see is highly underrated.
To find information about identifying the spotted lanternfly, current information about where it is known to exist, quarantine order, and compliance go to the Pennsylvania Department of Agriculture's Spotted Lanternfly page.
Bob Green
PIWC Executive Winemaker
Report 5 - September 21, 2018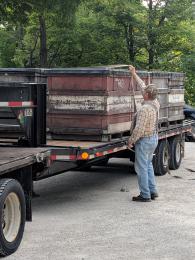 With harvest in full swing now, we're starting to see how the quality is playing out. A big concern earlier this week was how much rain we would get from Hurricane Florence. On Monday, a big band of rain from the storm headed our way, drenching everything in its path. It got to the southern edge of the Lake Erie Region, dropped a few sprinkles on our heads, and then disappeared. We totally escaped this one!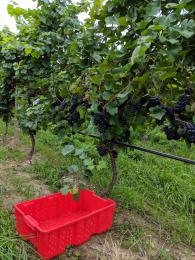 This was good for our Pinot Noir and Vignoles, both of which were nearing the desired picking time, and were on the edge for having severe Botrytis infections. Had the rain from Florence hit us, it may have been enough for the mold to take over, requiring that we either pick earlier than we would have liked to minimize the damage, or if we couldn't get the fruit off in time, that sour rot (a secondary bacterial/mold infection resulting from the initial damage to the berries by the Botrytis) would set in. This is the knife-edge that we tread—wait for ripeness or pick for safety.
This year we were lucky. The pinot noir was harvested clean and ripe. It is from a new vineyard for us tended by Courtney Semelka, who also provides us with Seyval Blanc. In addition to the Pinot Noir from this vineyard, we'll be taking in Teroldego, a northern Italian red wine variety suited to cool-climate viticulture, and Zweigelt, a red German grape developed in the 1920's, also a champion in cool-climate regions like ours. Courtney is a stellar grower, and the vineyard is picture perfect as are the grapes he harvests from it.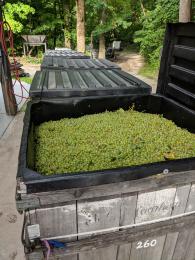 We've finished processing the early native varieties, Niagara and Fredonia, the hybrids Cayuga and Seyval Blanc, and the red vinifera Dornfelder. Quality of the fruit is top-notch, with lower than normal acid levels, and nice sugar. More importantly, the conditions have been favorable for developing flavor, the one thing that the winemaker cannot successfully add. Valvin Muscat, Steuben and Chardonnay are in the wings, and will be harvested early next week.
Of course, with this much activity on the press pad, there is an equal amount of activity in the winery. The cellar crew are busy getting the wines fermented properly and making sure that we have tank space for the new juices and wines ready. The trucks are on the road making deliveries of our juices to other wineries, and winemakers are making the trek to North East to pick up their grapes, juices, and supplies. It's a busy time, but one of the most exciting and rewarding times of the year as well. The entire year's winemaking begins during this short period of harvest.
Bob Green
PIWC Executive Winemaker
Report 4 - September 14, 2018
The first week of harvest is now behind us, and the season is looking to be both interesting and, at this point, of high quality. The weather is continuing with warm temperatures, despite a two-day spell where highs only made it into the 60's, reminding us that fall is not far away. The warmth returned quickly, though, along with higher humidity and good sun. This is fueling fast ripening of the grapes, with warm nights that burn up a lot of the acid in the grapes. Temperatures that are too warm can inhibit aroma development, though, and ideally at this stage we would prefer to have cooler nights with dry, sunnier days. But, as grape farmers who have experienced more than our share of downright bad conditions, we happily accept the nearly ideal and make the best of it.
Actually, this concept of taking what we get and making the best of it is important, since it is at the heart of any discussion of the vintage. Vintage is defined as the year of harvest (not of bottling) for a wine and aggregate character of the vintage – its reputation, if you will – serves as a reference and general indicator of overall quality of any given wine. In a region like Lake Erie, classified as a cool climate, we can experience pretty wide variations between vintages. One extreme example would be the polar vortex years of 2014 and 2015 when many vineyards were lost to the extremely low temperatures in January and February. Excessively rainy years which And within a vintage, there may be variations between early-season and later varieties like we saw last year where early season conditions were not as good and relative quality of the later ripening varieties was better than the earlier ripening ones even though the overall vintage turned out very well.
We could say that vintage variations give the winemaker the opportunity – or, from the winery owner's perspective, the obligation - to earn their stripes. Honestly, much of the wine's quality is set by what happens on the vine but the best winemakers are able to find the best expression of the fruit using the tools at their disposal. These include using innovative techniques and all of the helpful aids at hand to help compensate for flaws and to help guide the wine towards a desired style or balance, but also include good communication with the grower to make sure the fruit develops as best it can for the growing conditions and, perhaps most importantly having the good sense and discipline to "not get in the way" when things are going swimmingly. In good years like this one there should be less "winemaking" and more "tending to". The French have a term for this – elevage - which means to raise, like a child, providing what is needed; allowing freedom of expression; and knowing when to step in and when to let go.
As we move into the thick of the 2018 season, we can hope for more of the same, and wish for the hurricane to move on its way any direction but north and to fizzle out quickly. This week we'll be bringing in the Lake Erie staples, Niagara and Fredonia, along with Cayuga, Valvin Muscat (a delightful Moscato wine) and Pinot Noir. Grüner Veltliner and Dornfelder have been harvested and processed, and both are promising stellar wines.
Bob Green
PIWC Executive Winemaker
Report 3 - September 6, 2018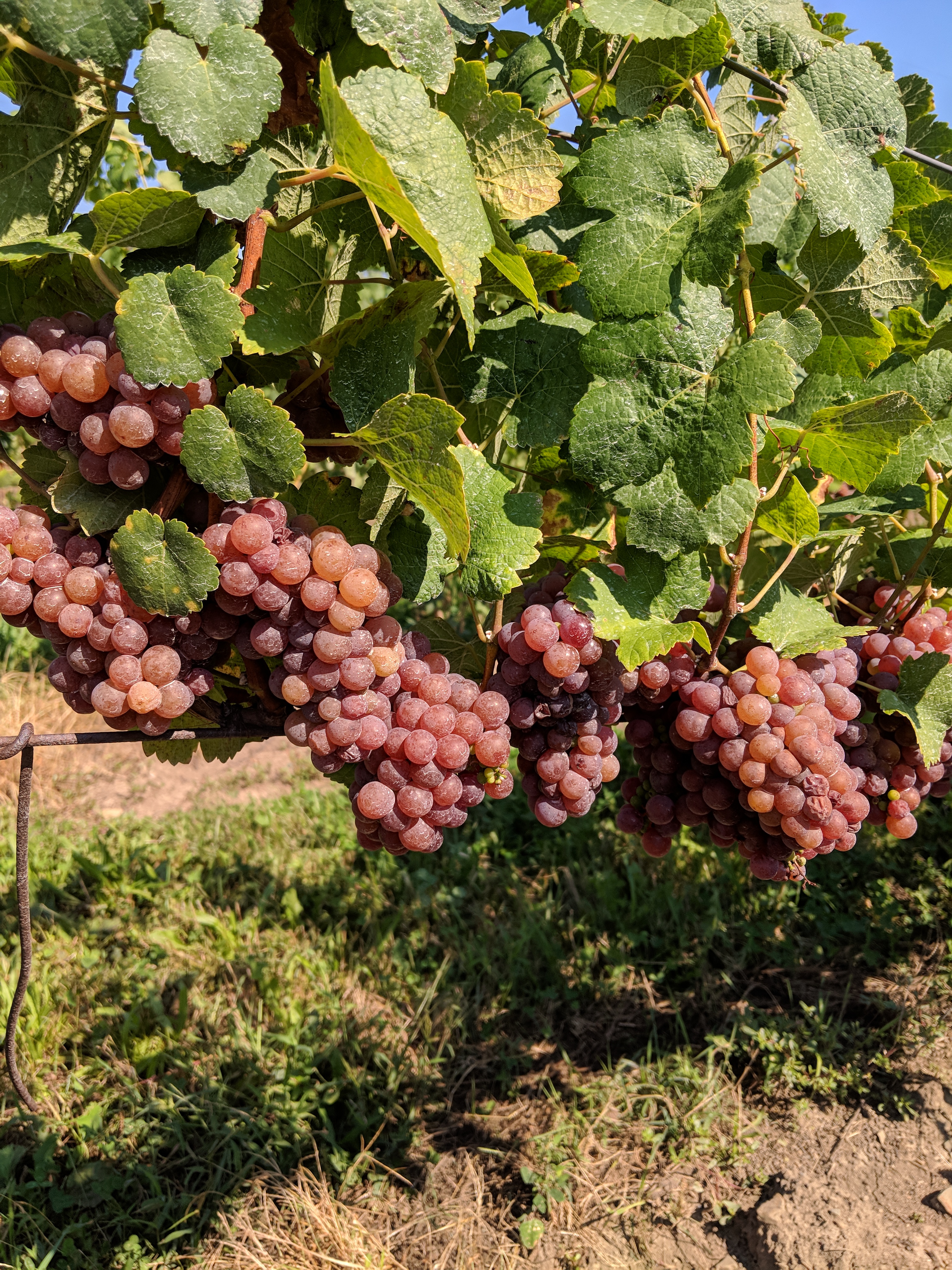 Last week I was standing next to a Concord vineyard and got my first big sensory cue that harvest is about to begin: the air smelled like Welch's grape juice. Of course, I already knew that we were soon to start bringing in grapes; – vineyard visits and grape samples had brought this fully to my attention – but there is nothing like that first hit of grape smells permeating the air to really bring it home.
With recent conditions being generally warmer than usual and reasonably sunny and dry, we are running a touch early this year. As it is, tomorrow, first thing in the morning, we will be pressing our first load of grapes. Bacchus, a German variety bred from Riesling, Silvaner and Müller Thurgau, takes the honors this year. Bacchus is a wonderful grape with an exuberant fruitiness grown for us by John, Cindy and Mike Moorhead, and they have supplied us with this variety since the early 1980's (at least). It will be a small pressing, with the juice destined to become a key part of the blend for our award-winning Falling Waters sparkling wine.
Later in the day, we'll be processing Gewürztraminer from Alan Rassie's vineyard. This variety can often be a heartbreaker. It has small, very tight clusters that, in overly wet years, can develop internal rot that destroys the grapes. No problems with that happening this year, though, and we see a very nice wine developing that you won't want to miss.
In general, it appears that we are a little ahead of our normal harvest times, if only by a couple of days. The long-range weather forecast for September is calling for above normal temperatures, and only intermittent wet periods. This sounds lip-lickingly good to me—this period of ripening after veraison is critical, and not enough sun or too much rain and humidity can undo the benefits from favorable conditions earlier in the year. That's not likely happening this year, though, so harvest 2018 is looking like a very happy story. Looking ahead, we'll be in full swing with Niagara, Fredonia, and Seyval this next week, having fresh Niagara and Fredonia grapes available on the weekend of the 15th (by preorder, please) and juices available starting on Monday, 9/17.
Bob Green
PIWC Executive Winemaker
Report 2 - August 17, 2018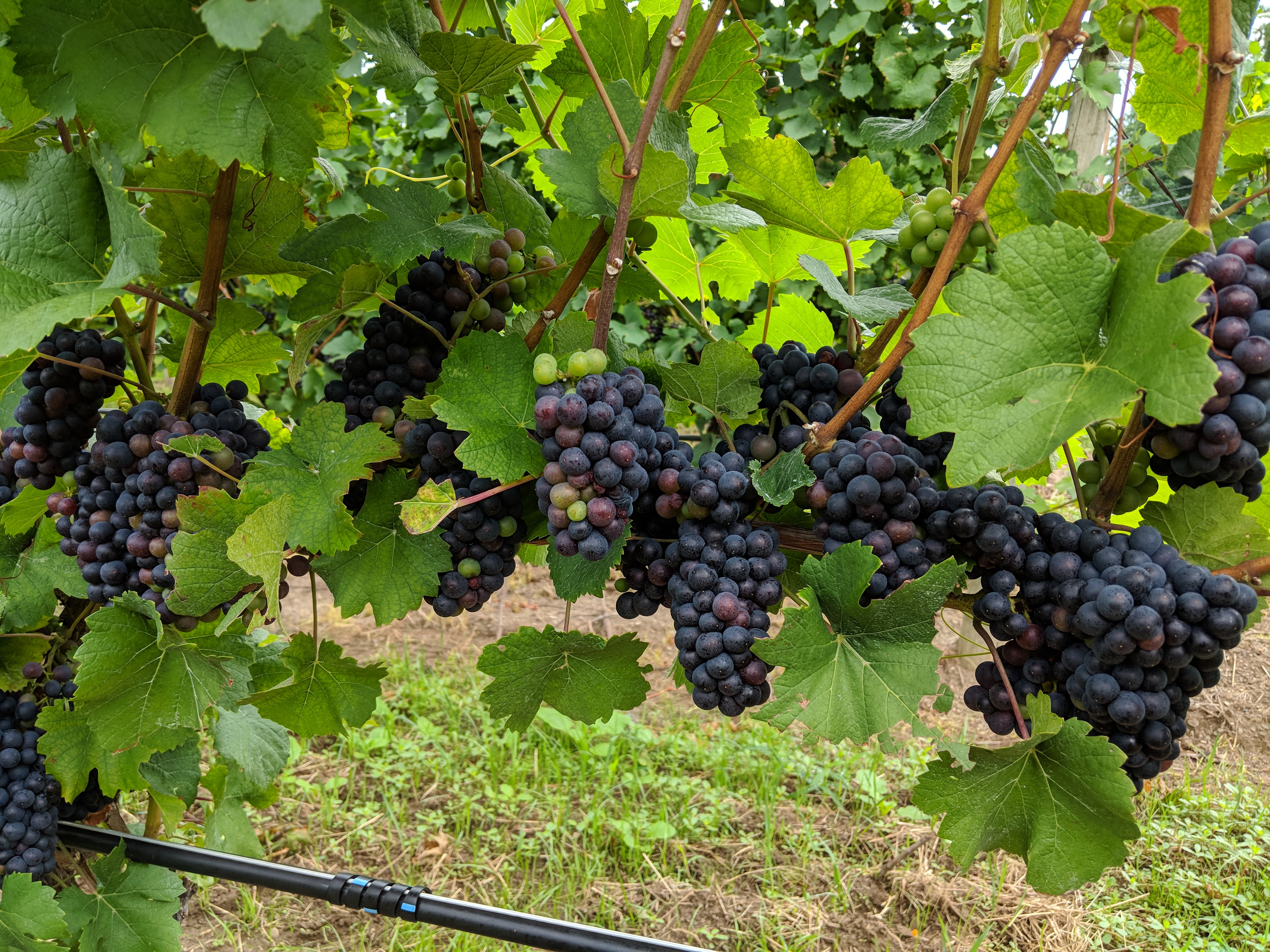 Right after the last report at the end of July, the general weather pattern changed into what I would describe as typical for late August and September. It cooled off a little, but mostly it just clouded up with a constant threat of rain, and then stayed that way. We missed the heavy rains that hit southern PA (one vineyard there reported 13" of rain in three days--yikes!) and the Finger Lakes, but the reduced sunlight and higher humidity are still factors that are affecting us.
I'm happy to report, though, that our growers are on top of things, and are keeping the vineyards as free from disease as is possible. A big concern now is weed control. July's dry spell kept them pretty much in check, but once the rain came more frequently, weeds started growing like gangbusters. The problem with this is that weeds growing under the vine interrupt airflow in the vineyard, keeping moisture longer in the canopy and on the fruit. This, in turn, provides opportunity for mold and mildew growth which not only affects the condition of the fruit, but also the vine's ability to ripen the crop if the leaves are damaged. Despite all of this, mold and mildew are generally under control and we're still looking at a good harvest. We are on time, if not a little bit ahead of schedule.
Speaking of timing, some of the early varieties are now in veraison. This is the point in fruit development where color develops in red varieties, the berries have attained their full size, and the focus of vine activity shifts from growing shoots and leaves to ripening fruit and hardening off the shoots for winter. In the first photo to the left you can see Pinot Noir - which ripens at the end of September - in the beginning of veraison. Notice the variation in color of the berries. The second photo is of Cabernet Franc, which doesn't ripen until the end of October. These berries are all still green in color as they are a few weeks away from veraison. For reference, both of these photos were taken on Aug 17.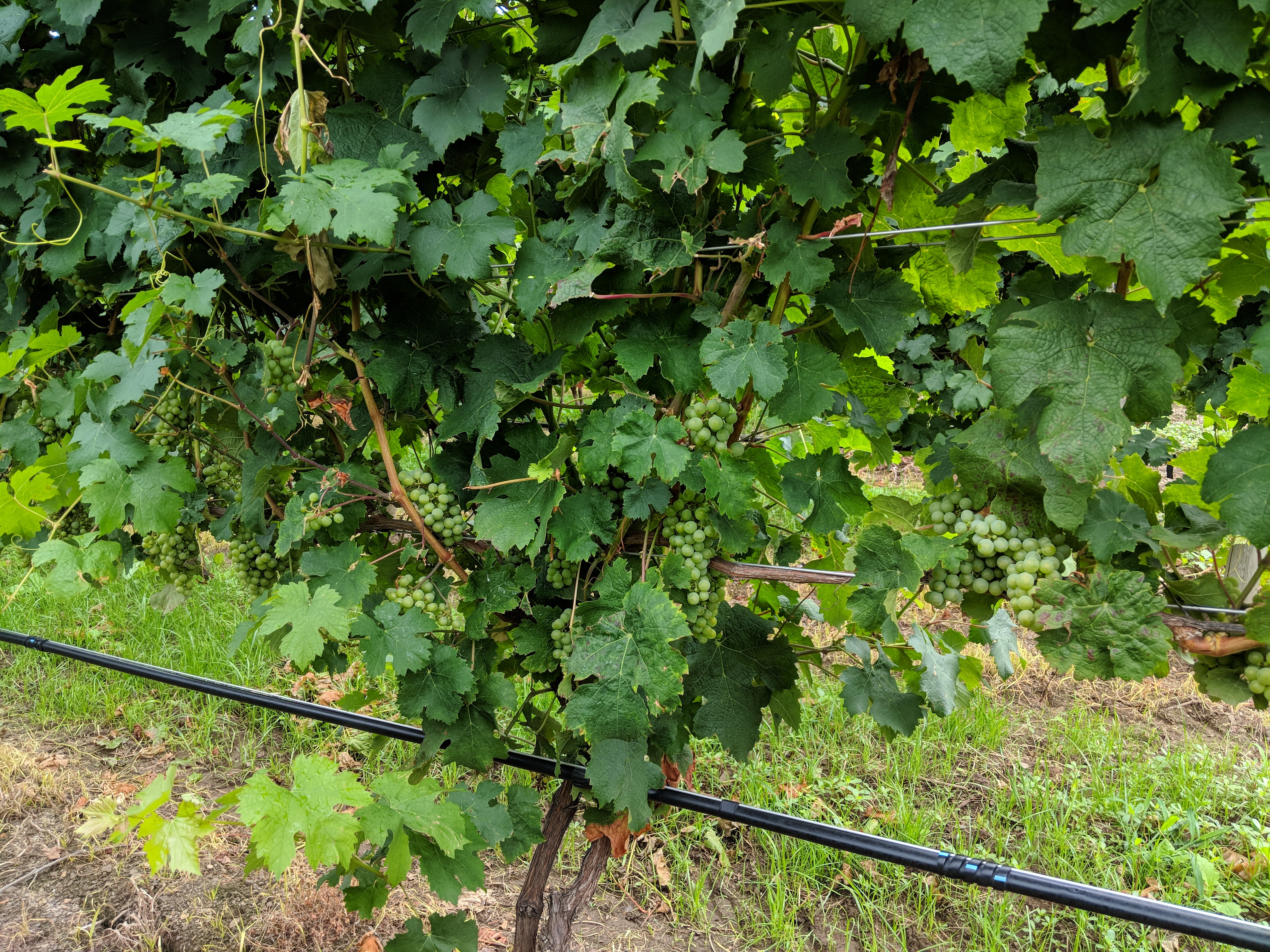 The period between veraison and harvest is particularly crucial to fruit quality--excess rain and clouds, and/or too little heat and sun will interfere with ripening (accumulation of sugar, degradation of malic acid, and development of aromatic compounds), and have a more profound effect on the wine produced than conditions pre-veraison. So we'll be crossing our fingers, watching the weather closely, and we will be visiting the vineyards more as we get closer to the actual days of harvest. We hope for lots of warm sunny days in the next few weeks, with just enough rain every now and then to keep the vines happy and healthy. If we get nature's co-operation on that front, we will be looking at a really nice harvest.
Bob Green
PIWC Executive Winemaker
Report 1 - July 16, 2018
It was a long winter. We had a lot of snow to put it mildly. Check out our Snowmageddon 2017 page to see just how much. While the snow was not very helpful for driving or for getting visitors to our tasting room, it was actually a very nice insulating blanket for the grapes, protecting them against any severe cold. We were fortunate that severe cold didn't really come this past winter and what cold spells there were only lasted a relatively short time.
Leading up to May 1 this year, everything seemed to be delayed in the vineyard. Temperatures were still dipping into the low 40's at the end of April, and yes, there was still a threat of snow. Grapevines grow only when the temperature is above 50° F, and we had very few days when the temperature exceeded that. To illustrate this, growers use "Growing Degree Days" (GDD) to give an indication of how much the temperature is above this 50° point by providing a running total of the number of degrees the average daily temperature exceeds 50°. Comparing 2017 to 2018 shows a big difference between 2017 (with a warm spring, and 167 GDDs) and 2018 (with almost no spring as of May 1, and 41 GDDs).
May 1 marked the beginning of spring and the growing season for us. The weather suddenly went from cold spring to full-blown summer: the high temperature recorded on April 30 was 60° with a low of 30°; May 1 had a high of 76° with a low of 50°. Temperatures stayed high—in the 70's and 80's—throughout the month, with the exception of a few days where it fell below average. We can see this reflected with 86 GDDs accumulated from May 1 – 7. (It's interesting to note that there were only 8 GDDs recorded for this period in 2017, when we entered a period with below normal temperatures for almost a month.)
The net effect of the temperature pattern was that we came into spring with the sense that we were in for a late season, but early May temperatures quickly changed that. The warm weather and well-timed rain gave the vines a kick in the pants, and we not only caught up, but are seeing vine growth that is almost out of hand, with a lot of canopy and abundant growth. Temperatures have continued to be warm. June was fairly wet, but not excessively so, and we are currently getting close to being in a drought situation with rain on its way according to the forecast. Grapes don't need much rain, in any case.
Fruit set—the period when the flowers turn into viable berries—occurred in favorable conditions, so clusters are full of berries, another requirement for a large crop. If the weather holds favorably, we could be looking at a good quality, large vintage. The critical time occurs after veraison, beginning in Mid-August (not so far away!) for early varieties, and a lot can happen before harvest.
I'll be starting vineyard visits this week—preliminary scouting trips to mostly talk with growers about conditions and crop projections. More information will follow, along with pictures of the vines and young fruit. These updates will spread out for a while, and then when harvest begins, there will be more frequent updates and observations. So stay tuned!
Bob Green
PIWC Executive Winemaker
---
Local Grapes and Juice and CA Grape Availability
This year's crop is expected to be large and we are optimistic about the quality as well. We should have good availability for Local Grapes and Juices. You may also wish to consider our CA Grapes and Juices, Fresh Australian Juice, and Fresh Italian Juice options in addition to your local purchases. We will be accepting pre-orders for grapes by the pound and ton. Pricing will be based on the volume you purchase. You can pre-order your local juice online or by phone and must be picked up at the winery. Grapes will only be sold via fax or over the phone.
For all the details, visit our Local Harvest page if you are ready to purchase.
We will have a better estimate of when you can pick up your grapes when it gets closer to harvest. These varieties are also subject to change due to Mother Nature and will be updated as the harvest and pre-sale date nears.
Visit our Grapes and Juices pages to stay up to date on all developments Also like us on Facebook and be sure you are on our email list to ensure you don't miss any Fresh Grapes and Juices news.