2020 Winemaker's Harvest Report
Scroll down to see earlier reports
2020 Winemaker's Growing Season Notes and Observations
Report 8 - October 2, 2020
They say that as you get older time seems to go by quicker. And here we are, already in October and it seems like we just started harvest not that long ago. Harvest has been easier this year—the great conditions to date and less problems with grapes that aren't ripe or are disease compromised goes a long way in that regard. We're n the mid-season lull now, which always seems to come at the time when we need a break from full days of pressing to rack juices, start fermentations and clean tanks so that we are ready for the late season rush, which will be here soon.
We took in several red varieties this past week and have pressed most of them off. No surprises in the quality—good color and good flavor prevails. The good harvest quantities are also allowing us to offer a few of them for sale as young wines, even though they were not originally on the Grape & juice list that was sent out prior to harvest. So, if you're looking for Zweigelt, Foch or Pinot Noir as red wines, now's your chance to get them!
Mother Nature also noticed that the calendar changed to October, and promptly began giving us October weather—temperatures got chilly, and clouds and rain moved in. This will slow down ripening, but the late-season varieties that are still hanging will certainly benefit from being on the vine. I tasted one of our signature red varieties, Carmine, in the vineyard today, and it was showing nice developing flavor—not much in the way of green pepper or vegetative aromas - and the skins were still crunchy and a little bit astringent. The leaves are still in good shape with just a little yellowing, so extra time on the vine will still be good, especially to help ripen the tannins and give a more pleasant mouthfeel to the finished wine.
Fingers crossed for a great finish to what so far has been a great vintage.
Bob Green
PIWC Executive Winemaker
Report 7 - September 25, 2020
We're approaching the midseason of harvest now that Fall has officially begun and October is just around the corner. Recent varieties harvested were Pinot Gris, Pinot Blanc, Vignoles, and Gruner Veltliner for whites and Pinot Noir and Zweigelt for reds. As is often the case, the timing of ripening is evening out as we move through the season. What I've observed is that in most years where we start either early late to bring in fruit, we reach a point, about now, where we come back to our typical harvest schedule, no longer ahead or behind schedule.
The best news is that all of the grapes so far are coming in exceptionally clean with nice flavor development and acids in balance. The weather has continued to be sunny and dry, cooler in the week, but warming nicely now. These conditions, and the continued high quality of the fruit, makes my job as winemaker easier since there are less adjustments to be made to achieve the balance I'm looking for in the final product. Of course, flavor is the important element here—I can adjust sugar and acid successfully but cannot replace flavor that doesn't come prepackaged with the grape.
Rain is forecast for the next week, so this will be of concern for varieties still out there and we will be watching closely. One variety on the list to watch is Regent, a new German variety (first commercially planted 25 years ago—a baby in the German wine industry where Riesling dates to the 1400's). Regent was bred for disease-resistance (which hasn't been an issue for any variety this year, luckily), and it also yields very dark juice, berry and cherry aromas and decent tannins. This is our second harvest of Regent and it is looking pretty good again this year. Because it's relatively new, especially for us, we don't know how it will respond to rain. We are ready to take it off immediately if needed to avoid losing it, of course, but would rather let it hang until completely ripe to take advantage of the perfect growing conditions this year.
Chardonnay and Gewurztraminer will be coming in soon, along with Steuben and Chancellor. Concord, the variety that built the Lake Erie grape region, is being harvested now and we will soon be offering juice from these varieties.
Bob Green
PIWC Executive Winemaker
Report 6 - September 18, 2020
The harvest season continues to keep us on our toes. We're now in a period where there is clear, sunny, albeit cool, weather for the next 10 days, which creates an opportunity to sit back and let the grapes ripen without worry about disease pressure from moisture-loving mildews and molds. The cooler temperatures—highs in the 60s and low 70s—slows not only the diseases, but also vine functions that ripen the grapes, but it's a welcome tradeoff for cleaner grapes and more developed flavor. Pinot Noir, which we normally watch like a hawk this time of the year and are ready to harvest at the slightest sign of mold, is hanging beautifully. Sugar is climbing and acid is coming down slowly, perhaps, but aromatics and tannins are able to develop more than in more typical years.
Having said all of this, its also interesting to look at a variety like Vignoles, which is very susceptible to mold during the last stages of ripening. There is one particular mold, Botrytis cinerea, which has a lot of notoriety for aiding in producing some of the most sought after (and expensive) dessert wines. At its best, Botrytis desiccates the fruit and concentrates flavor and sugar while adding a few flavor components of its own. It can easily get out of control, though, destroying the integrity of the berries and allowing undesirable sour or bitter rot to take hold, rendering the fruit unusable. It thrives in moist conditions where it grows on the berries and pierces the skin, pulling out water and nutrients from the juice. It looks scary but affected berries are actually quite tasty and have almost no odor (Sour rot has a distinct vinegar odor).
Ideal conditions that allow it to work for us in creating an especially rich wine are a daily cycle of moisture (from a heavy dew, for example) followed by dry, sunny weather which dries up the mold, keeping it in check. Back in the late 80s and early 90s, we had a couple of vintages where we were able to produce late-harvest Vignoles from grapes affected by Botrytis that yielded luscious dessert wines. And this is what we find happening this year; there is Botrytis on some clusters, but it is staying dry with no indications of sour rot forming. The sugar content is already higher than we often see, and with conditions like we have now, it could continue to climb higher, maybe (dare I say it?) even to late-harvest dessert wine status!
Bob Green
PIWC Executive Winemaker
Report 5 - September 11, 2020
There is no easing into harvest this year. We've been hot (but not too hot) and dry for quite a while now, with just enough rain to keep the vines ripening fruit in most vineyards. The weather we've had the past week has been ideal which is compressing the timing of ripening of the early varieties—they all took a leap in sugar and flavor. No complaints about that, though. A few vineyards, especially those on well-drained gravelly soil, are showing a little drought stress, but there is a little rain in the forecast, and hopefully that will provide relief for them. Early estimates indicated we would be starting juice sales on the weekend of September 19, but there will be a few varieties available earlier than scheduled—check our website for the latest updates!
Diamond was the word for today, being the variety of grape that we are starting this harvest season with. Diamond is an old variety, selected around 1870 in New York from a cross of Concord and Iona (another old variety originating a few years before). Diamond is often compared to Niagara in terms of flavor, but for me it is a little more exotic and desirable, with less of the foxiness that is characteristic of Concord and Niagara. From a winemaking point of view, it is easy to work with, and other than adjusting sugar (typical for native varieties), there is very little that needs to be done to make a very palatable wine. It is also versatile and good examples can be found that range from dry and barrel-aged to fairly sweet and fruit-driven. It will be available for sale starting on Monday, 9/14.
The press schedule for next week is already filling up, especially with the weather cooperating as it is. One of the varieties that we are looking at taking in during this time is Pinot Gris (aka Pinot Grigio). We have three varieties of closely-related Pinot grapes grown in the region: Pinot blanc (white Pinot), Pinot Gris (gray Pinot) and Pinot Noir. Pinot Blanc and Pinot Gris are mutations of Pinot Noir and all three are early ripening and well-suited to our cool-climate vineyards. They all have small, tight clusters, but differ in color. Pinot Gris, or as the Italians say, Pinot Grigio, is easy to identify by the copper-colored berries when they are ripe. Pinot blanc are golden yellow whereas Pinot Noir are deep bluish-purple. Despite Pinot Gris's skin color, the juice and wine are normally colorless, or at the most, light golden in color. There are differences in flavor, of course. At Presque Isle Wine Cellars, Pinot Gris produces a consistently good, world-class, dry white. The small amount of Pinot Blanc that we are taking in this year is destined for sparkling wine base. Pinot Noir, will of course, be made and bottled as a dry, red varietal wine.
Stay tuned for more updates. We're still on track with exceptional harvest conditions projections and really terrific wines from the 2020 growing season.
Bob Green
PIWC Executive Winemaker
Report 4 - September 4, 2020
Vineyard visits and sampling are now occurring regularly, and the early varieties are getting close as expected, but still need more hang time to ripen. A rule of thumb for sugar accumulation at this stage of ripening, as measured by Brix which is roughly equivalent to % sugar, is to expect an increase of 1 Brix every 5-7 days, although it can be higher in warm and sunny conditions. Our current weather pattern is calling for exactly that: warm, sunny and dry during the day, with cool nights. The latter is important, especially in red varieties where the development of anthocyanins, the compounds responsible for most of the color in red wine, is favored by warm days (68-77 F) and cool nights (50-60 F). We are a bit warmer than this, now, but the trend in weather is moving to that ideal situation. It's looking good!
Grüner Veltliner is a variety that makes some great wines and is increasing in importance for us. Originating in Austria, it likes temperatures that are a little higher than Riesling, but also thrives in our cool climate. It's a consistent producer, both in the vineyard and in the winery, and seems to be able to yield very good wines from year to year, even in our very variable Lake Erie climate. On a side note, it also shines at the other end of the state, in the Lehigh Valley region, producing excellent wines there, year after year. We share many similarities with the Lehigh Valley in terms of climate, but with a difference: we are best categorized as a maritime climate, with weather patterns influenced and moderated by Lake Erie; the Lehigh Valley is more of a continental climate, influenced by land formations—mountains and valleys. Comparing wines from the two regions makes for an interesting tasting.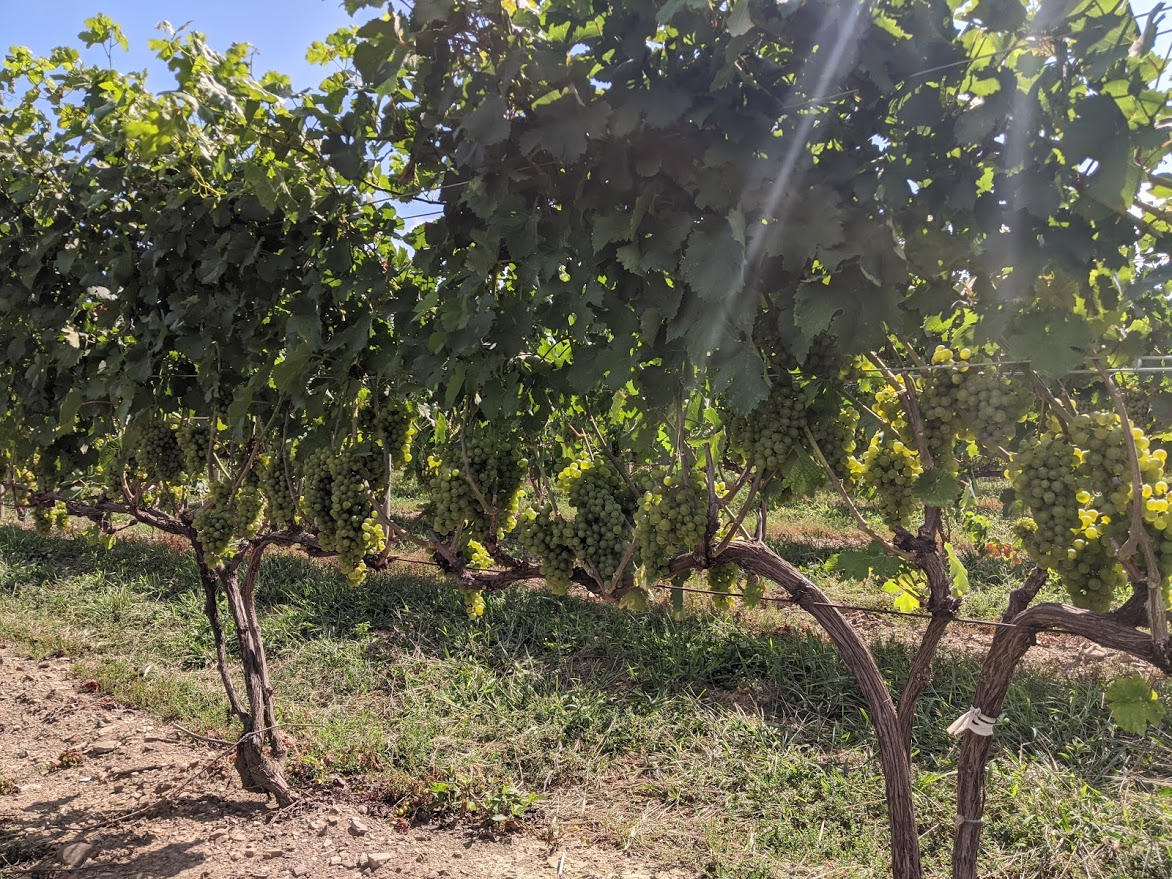 With the conditions in the season so far, we're expecting big things from this year's Grüner, one of our early harvest grapes, and our growers have been out leaf pulling to help the grapes meet the potential. Leaf pulling – removing leaves around the grape clusters – is a technique that growers use to facilitate ripening of the grapes. This is done to improve what is often referred to as the vineyard's "microclimate", essentially the conditions within the vine itself. The vine canopy - the shoots and leaves on the vine - creates a shaded space (a microclimate) that tends to be more humid and have less air movement and sunlight than between the vine rows. We can modify this microclimate by removing part of the canopy to open it up a bit more to increase the sunlight that gets to the grape clusters, reduce humidity, and increase airflow that can help protect the grapes against molds and disease. In the photo, you can see Grüner vines that have been leaf-pulled to allow for more air flow and light to reach the berries. Grapes are susceptible to sunburn if exposed to sun that is too intense which can increase bitterness and reduce desirable aromatics in the resulting wine. In this vineyard, the rows run east/west, and so leaves are pulled from the north side which is shaded by the vine, with more leaves left on the south side to partially shade the fruit, minimizing sunburn. While we're still at least a week or two away from harvest, the berries are starting to show signs of characteristic flavor development and higher sugar/lower acid.
Bob Green
PIWC Executive Winemaker
Report 3 - August 28, 2020
Yesterday, a cold front came across the lake with dramatic clouds, heavy winds and a drop in temperature of about 10 degrees. It also brought rain. Much needed, given the dry conditions we've had up to this point. Today is uniformly overcast with a steady drizzle which will allow the moisture to soak into the hard, dry ground better than a heavy rain which would tend to just run off. While rain can create problems by increasing disease in the grapes—molds and mildews thrive in warm, humid conditions—water is also essential for healthy functioning of the vine as it ripens the fruit. Remnants of Hurricane Laura are tracking well south of the region, and the forecast calls for periods of clearing with some rain over the next week or so—none of this is a concern for us.
Next week begins serious vineyard sampling as the earliest varieties approach ripeness. Given the continued sun and warm weather to this point, we may be starting harvest soon after Labor Day. In any case, we'll have a better sense of how the crop is progressing. As mentioned in last week's entry, berry size, as well as cluster size, seems to be having an impact on crop yields, with earlier estimates being revised downward. Quality indicators are still looking very good.
Bob Green
PIWC Executive Winemaker
Report 2 - August 21, 2020
While it's only been a few days since the last post, there are a few updates worth noting. In talking with growers and winemakers in neighboring regions, including the Finger Lakes in New York, and Lehigh Valley in eastern Pennsylvania, the consensus is the same: an excellent year for wine that is, perhaps, a few days ahead of schedule. While we can say that the crop is on the large side, we have to look closer to see what is really happening in terms of fruit quality.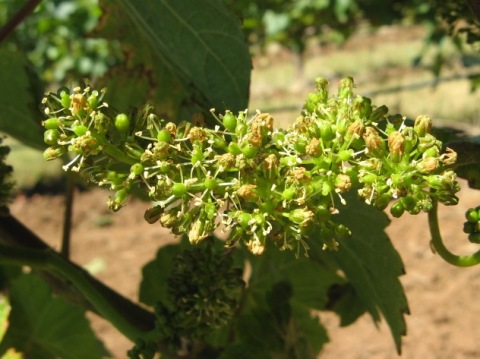 Back in June, the vines flowered - yes, grapevines have flowers - and they are on miniature clusters that will ultimately become clusters of grapes. As you can see in the photo, these are not showy bouquets of blossoms, but are plain, functional flowers; they can have an ethereal grapey aroma, though. The flowers are self-pollinating, so we do not have to worry about having male and female vines, or making sure there is a population of bees or other pollinators in the area. After bloom, we have fruit set, which is when the blossom turns into a new berry. Adverse conditions like rain or heavy winds can disrupt this process, and flowers/berries can be dislodged from the cluster. If enough are knocked off, the clusters will have fewer berries (poor fruit set) and the crop yield is reduced. If fruit set is good, then crop yield will also be good. For this season conditions were excellent and we had good fruit set.
There is another variable that comes into play, though, and that is berry size. Berry size varies from variety to variety and is influenced by the amount of rainfall during the growing season. More rain generally means larger berries (water is taken up by the berry, swelling it up); less rain means smaller berries (less water and swelling of the berry). What we are seeing this year is good fruit set with smaller berries, resulting in a decent crop size, but not too large. As we go along, estimates of crop yield may change depending on weather patterns.
Berry size is important to wine quality, especially for red wines. Red wines get their flavor from extended contact and fermentation with the skins. A grape is essentially a sphere and the relationship between the volume of the berry (which correlates with the amount of juice) and surface area is exponential. As berry size increases, the ratio of volume to skin increases—in simple terms, there is less flavor available from the skin for the amount of juice. In a year where berry size is smaller, like this year, we have the potential to see more concentrated flavors and color (more skin flavor for the amount of juice in each berry).
So, bottom line is for 2020 we had really good fruit set and berry size is looking to be toward optimum – harbingers of a very nice quality crop. Of course, we still have almost 1 month before harvest really gets going, and a lot can happen in that time. But the forecast looks really good right now, and we will proceed with the hope of a superb year, especially for our red wines!
Think good thoughts and cross those fingers everyone – and don't step on sidewalk cracks or the first base line. Cheers!
Bob Green
PIWC Executive Winemaker


Report 1 - August 14, 2020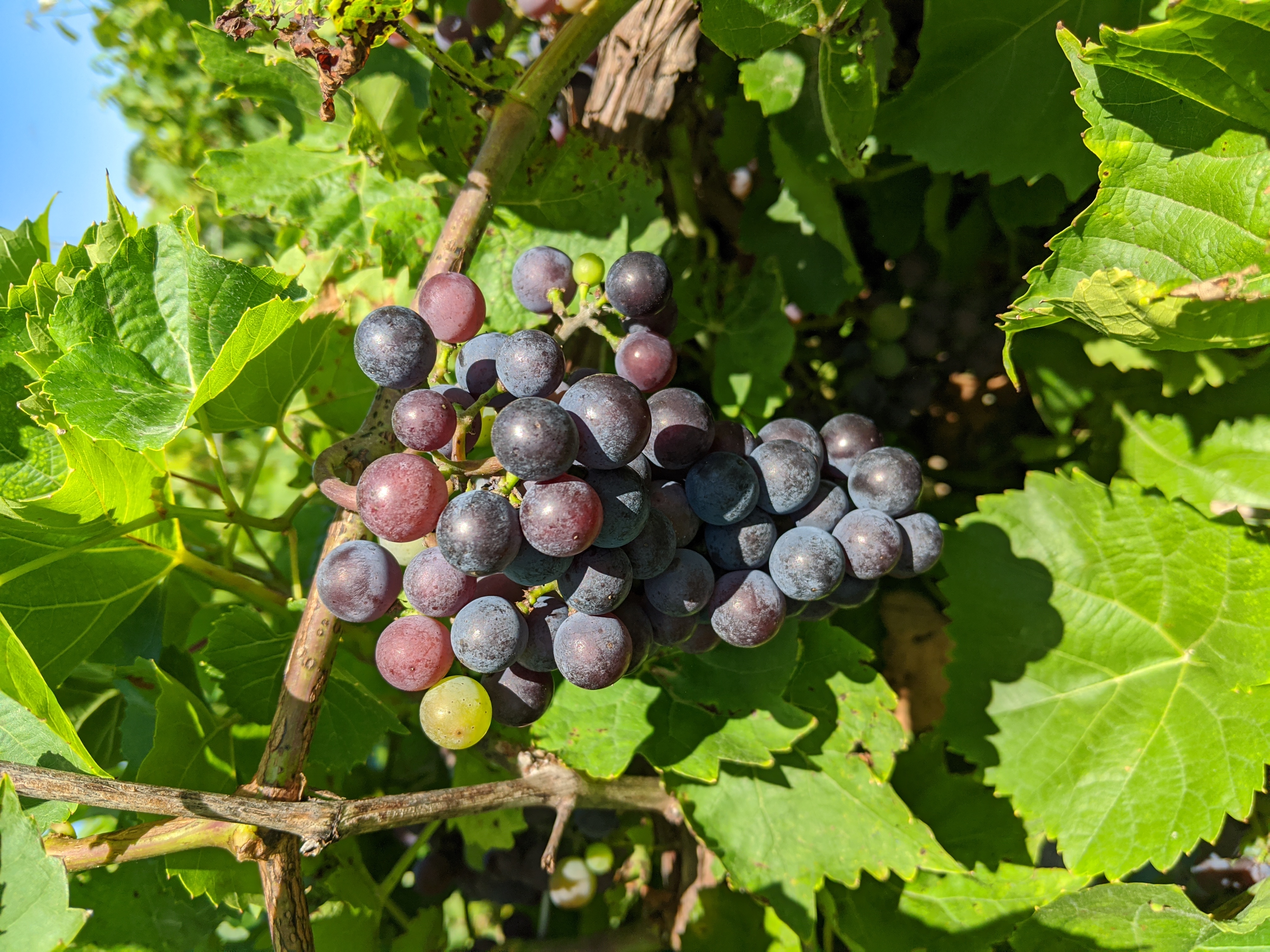 The 2020 growing season has some real potential to be of high quality and of decent size. We have been fortunate to successfully navigate the early hurdles in our annual Path of Perils. Peril #1 (Bitter Prolonged Winter Cold) - The winter was exceptionally mild resulting in minimal winter damage to most varieties. Peril #2 (Late Frost) - Spring was also good to us, staying almost winter-like into May, which delayed bud break long enough that we avoided the devastating damage that regions to our south experienced when an Arctic blast descended across the East Coast and killed new shoots and buds on the vines. Peril #3 (Cloudy, Cold, Wet Early Summer) - Summer has been remarkable with long periods of sunshine and warm, but not too hot, temperatures. On we go to August where things really begin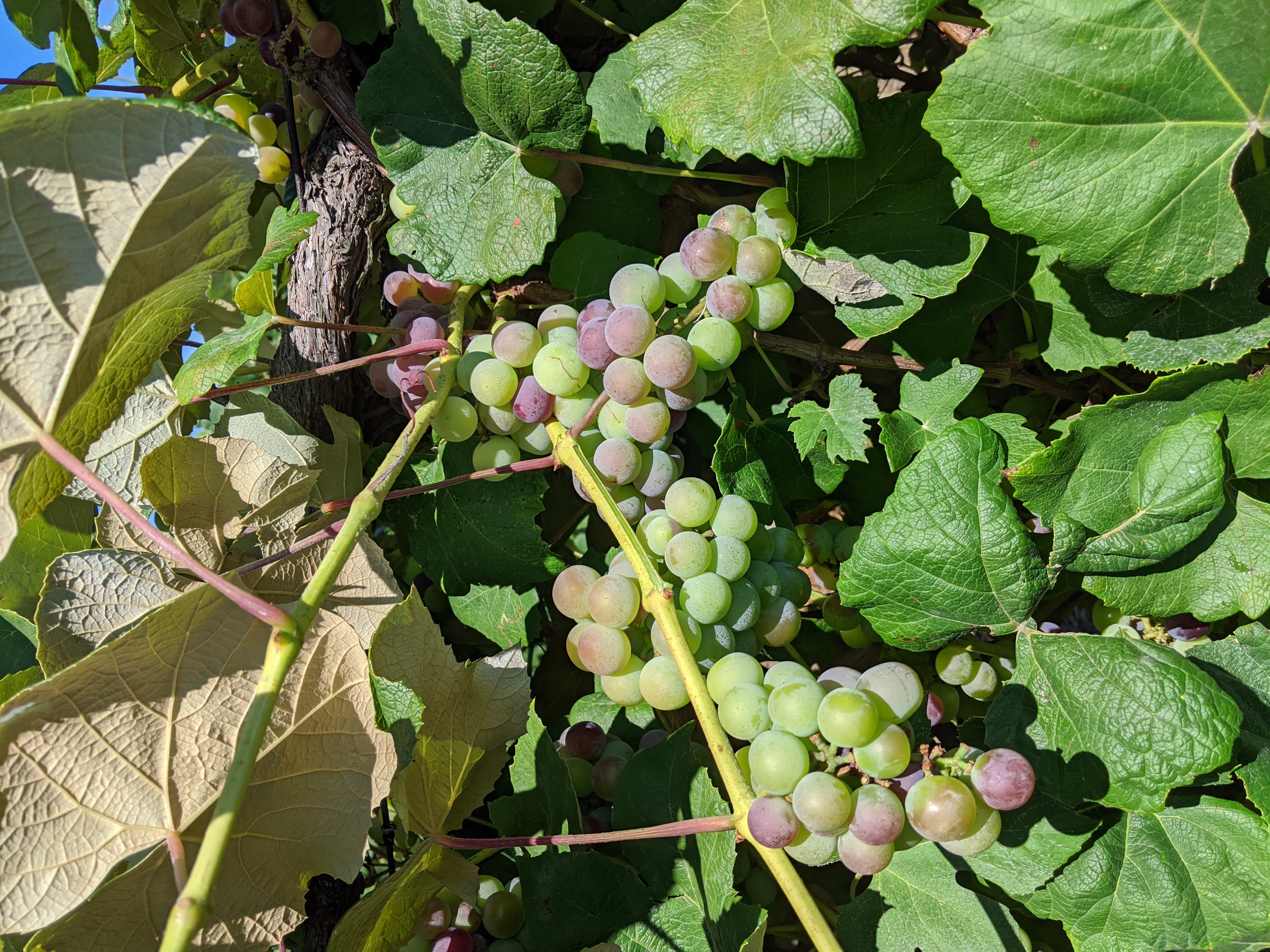 to happen with ripening. We hope to get lots of sunshine while avoiding wet, hot, and humid conditions that can promote molds and disease (Peril #4). So far in August we have been teetering on the edge of drought, but rains have come just in time to keep vines healthy without too many days of high temperatures and humidity and temperature that allow molds and mildews to become an issue.
Early red varieties are now showing red color developing, indicating the vines and fruit are transitioning into the final ripening stage of veraison. From now until harvest, sugar in the berries will be increasing, acid levels will be falling, and aromatic compounds—the most important flavor component—will be increasing. The timing of this is pretty close to being right on target or maybe a couple of days earlier than our long-term average. For our juice and grape customers, our first juices will be ready for pickup starting on Friday, September 18. Let's hope conditions and our luck continue as they are and we have a stellar vintage.

Stay tuned for more updates as we move closer to Harvest 2020!
Bob Green
PIWC Executive Winemaker
---
Local Grapes and Juice and CA Grape Availability
This year's crop is expected to be large and we are optimistic about the quality as well. We should have good availability for Local Grapes and Juices. You may also wish to consider our CA Grapes and Juices, Fresh Australian Juice, and Fresh Italian Juice options in addition to your local purchases. We will be accepting pre-orders for grapes by the pound and ton. Pricing will be based on the volume you purchase. You can pre-order your local juice online or by phone and must be picked up at the winery. Grapes will only be sold via fax or over the phone.
For all the details, visit our Local Harvest page if you are ready to purchase.
We will have a better estimate of when you can pick up your grapes when it gets closer to harvest. These varieties are also subject to change due to Mother Nature and will be updated as the harvest and pre-sale date nears.
Visit our Grapes and Juices pages to stay up to date on all developments Also like us on Facebook and be sure you are on our email list to ensure you don't miss any Fresh Grapes and Juices news.