2021 Winemaker's Harvest Report
Scroll down to see earlier reports
2021 Winemaker's Growing Season Notes and Observations
Report 7 - November 5, 2021 Harvest Wrap-Up
The end of October also brought the end of the 2021 harvest. The last load of grapes was delivered Friday afternoon, Oct. 29. These were the late-season Bordeaux varieties (Cabernet Sauvignon, Cabernet Franc, Merlot, and new for us this year, Malbec and Tannat), which require a long growing period to reach full maturity. In the Lake Erie region, this means letting them hang as long as we possibly can providing the weather cooperates. Given the unstable weather patterns we had throughout the growing season, it was somewhat surprising that the weather in the last 2 to 3 weeks of October helped coax these later varieties to a pretty good finish. Temperatures remained warmer than usual—highs in the 70s and lows in the 50s. While this is not what we think of as ideal (cooler nights are considered to be better for ripening red wine varieties), it seemed to help ripen the tannins in the skins, making them less astringent and bitter. There was still rain that was as likely to pop up unexpected as well as not show up when forecast, and the sun was reluctant to show itself for more than a day at a time. Disease pressure remained a constant since higher humidity came with the warmth. Luckily, the late-season varieties tend to be more or less resistant to botrytis and other molds are somewhat inhibited as the fruit matures and are less of an issue.
A few other interesting observations: Yield in the vineyard (tons of grapes per acre) was higher than expected, no doubt due to the amount of rain we had for most of the growing season. Juice yield (gallons of juice per ton of grapes) was also higher than normal for the same reason. Harvest parameters are also a bit abnormal, with higher pH levels than normal, and in some cases, higher total acid levels as well. All of this can be attributed to the excess water and lack of sunlight. Sugar content, measured in degree Brix, was lower than normal for some varieties, but normal or even higher for others. It seems that the weather patterns were atypical enough to significantly and generally beneficially affect the physiological process of ripening.
Elevated pH levels will (hopefully) end up more normal after fermentation and during maturation. Wine pH is an important aspect of helping wine resist infection by spoilage organisms and oxidation. As pH increases, the efficacy of sulfur dioxide (sulfites) goes down, increasing the risk of spoilage. One likely cause for the elevated pH is higher uptake of potassium by the vine as a result of the rain. This is translocated to the berry, pushing the pH up. There exists an equilibrium between potassium and tartrate ions (from tartaric acid, the predominant grape acid) in wine, and if potassium is in excess (like this year), it can react with excess tartrate ions to form potassium bitartrate and precipitate out as tartrate crystals.
The real question, though, is what the quality of the wine will be from 2021. At this point, I believe that overall, wine quality will be at least average, and for some varieties, a bit above average. Given the various pressures and risk factors that were present during ripening and harvest, this is a very good result. Early sampling of wines coming out of fermentation show clean flavors, if somewhat muted (think dilution from the increased juice yield). Early red varieties have decent color, but a few are less than ideal in depth of flavor. Later reds are showing better in general. Much of this could change as the wines mature; some key aromatics are released during fermentation and maturation as molecules which are not odor-active are enzymatically broken down into odor-active ones. Tannins in red wines could be softer and less green than we normally see, and this would certainly be a welcome change. The growers had their hands full keeping vines clean and weeds down throughout the growing season, and now it's our turn in the cellar to do what we can to keep this year's wine clean and realize the flavor potential that is in the fruit. We look forward to seeing how the 2021 vintage wines develop and to sharing them with our customers. Cheers!
Bob Green
PIWC Executive Winemaker
Report 6 - October 3, 2021
The major mid-season varieties are now harvested and processed, and not without the drama that seems to characterize this year. The 10-day forecast on Friday of this past week was mostly rain, so we once again started to assess which varieties and vineyards had to be harvested before the rains started on Sunday. The biggest concern was Riesling. Itit is a variety which is prone to being affected by botrytis (a mold, Botrytis cinerea, that grows on grapes). In the best conditions is called Noble Rot and it can make a richer wine by removing water from the berry and concentrating the flavor components along with adding in its own (desirable) aromatic contribution. The Germans have a classification system that is, in part, built on classifying wines according to the ripeness and level of Botrytis infection. At the top end, designated Trockenbeerenauslese or "dried berries selected", the Botrytis infection has totally consumed the berry leaving it a dried husk of intense flavor, and resulting in a sweet, rich dessert wine.
The keyword is "dried". If the mold is allowed to grow in overly moist conditions, then other not-so-noble molds and rots can form leading to vinegar and other off-odors being formed. The weather earlier in the week was dry and sunny, with cool dry nights. Any mold growth prior to this had dried out, leaving just concentrated berries, and the unaffected berries were able to benefit from a few more days of sun to ripen flavors. Smelling individual mold-affected clusters in the vineyard is a quick test to determine whether off-odors are developing. Friday morning's samples indicated that the fruit was still sound, but a day (or more) of rain would certainly allow the mold to start growing again, going beyond the desirable stage and into the danger zone. The decision was made to harvest the Riesling on Saturday morning, and not take any chances with the quality by waiting for the next dry spell. In the end, we achieved 21° Brix, with acid and pH in a workable range.
The rain forecast has changed (of course) and even though there may be a few days next week with no rain, we'll be able to take a breather and get juices racked and fermentations going—much needed this time of year. .
Bob Green
PIWC Executive Winemaker
Report 5 - September 26, 2021
The weather is still the major driver of this harvest. At the beginning of last week, the forecast showed steady rain starting in the night on Tuesday and continuing through the weekend, with a light break on Friday. Monday was spent in the vineyards looking at the condition of the grapes, and then talking with growers to determine which varieties might hold until Friday, and which absolutely needed to be harvested to avoid major issues with breakdown of the fruit. By the end of the day, it was all sorted out and we had a plan. So we thought. The predicted rain didn't start Tuesday as predicted, and pretty much fizzled out or the rest of the week. This gave us a little more room to maneuver, and new plans were laid—flexibility is needed for harvest sometimes.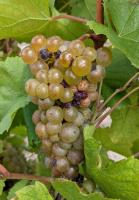 This reprieve allowed us to bring in some very nice Pinot Gris, Pinot Noir and Vignoles, three varieties that are very susceptible to rot, with just a touch of Botrytis (dried out and not therefore affecting flavor) and not too much dilution from excessive rain. We were also able to bring in the first of the Chardonnay and Grüner Veltliner in good shape and with decent sugar and acid readings. More Chardonnay will be harvested this upcoming week along with Gewürztraminer, and Valvin Muscat. Steuben will probably follow at the end of the week.
We are still seeing higher than normal pH levels as a result of higher potassium levels due to the amount of rain and water uptake by the vines. The effect of this in the winery is a need for very careful monitoring and management of sulfite levels in the wine during maturation; sulfites become more ineffective as the pH rises. One remedial action we will take during fermentation to aid in lower the potassium level in the wine is to increase the precipitation of potassium bitartrate crystals. I had the opportunity to visit a couple of vineyards in eastern Pennsylvania over the weekend. It was a lot of driving packed into two days, but it is invaluable to see how other growers and winemakers handle similar conditions, and how very fine, world-class wines are being made in all parts of the state.
Bob Green
PIWC Executive Winemaker
Report 4 - September 19, 2021
Harvest is in full swing now with the early varieties completed, and new ones being taken in. The three main numbers that we use to gauge grape maturity - Brix, total acid and pH - are still reflecting the unsettled weather patterns we have seen pretty much the whole growing season. The rain we had last week added more water to the already large berries, and in many cases we saw Brix drop (sugar content went down) from the previous week's samples. All of the water uptake is also increasing the potassium level in the grapes, resulting in higher-than-normal pH readings. Acids are still high though. Weather later in the week shifted into more typical late summer weather with clear, dry air and lots of sun. This combination can reverse some of the effects of the excessive water uptake and get us back on track with ripening fruit.
Berry size also influences the size of the crop overall. The conditions that determine the size of the crop have been favorable since the embryonic clusters were formed in 2020, with no winter damage (at least for our wine varieties), good fruit set (high percentage of berries developing on the cluster) and minimal damage from disease or hail. These conditions along with having berries that are larger due to an overabundance of water throughout the season are resulting in what looks to be a really large crop. There may not be a shortage of wine this year, but it will make tank space a precious commodity.
Varieties we have recently harvested or are scheduled to harvest this week include Cayuga, Pinot Gris and Pinot Noir as well as the remainder of the Valvin Muscat. Regent, a German red varietal that is relatively new for us, is also reaching maturity and will be harvested mid-week. It was bred to be a disease resistant variety and is living up to its billing admirably in this way. Chardonnay and Gewürztraminer are waiting in the wings, and we are watching both of them closely to determine when we can harvest, still holding out for optimum ripeness with minimal disease. It may be by the end of the week, but it all depends on the weather. All of these varieties are hanging well. Rain is forecast for midweek, but if it is minimal and followed by good breezes and sunny weather, we still may be able to realize the quality we would like to see this year.
Bob Green
PIWC Executive Winemaker
Report 3 - September 12, 2021
With harvest in full swing now, it's a little easier to get a better sense of what nature is offering up for us winemakers. Across the region, it is apparent that berry size is large, a result of the more than ample rain we've had in the past month. Large berries can be a good thing—they indicate a potentially large crop and reduced possibility for shortages of wine for the next year. But a large crop also requires lots of sun and heat to fully ripen, which has been below optimum so far this year. The numbers compared to last year reflect this: Brix (a measure of soluble solids or sugar) is lower overall than the same time last year, a result of more internal berry dilution (from rain) and less sun exposure (also from clouds and rain) to ripen the larger crop. Acid levels are higher, too - the reduced heat and sun, which normally facilitates the breakdown of malic acid in the berry, is countering any reduction in acidity from dilution.
Both of these parameters are useful to gauge the ripeness of the grapes, but the most important indicator of ripeness in any year, regardless of the growing season, is flavor. The saying "fine wine is made in the vineyard" is largely but not fully correct. Wine is made in the winery, of course. But wine flavor originates in the berries as they come from the vineyard. It is the one component of wine that cannot be successfully worked around or replaced by expert winemaking; what flavor characteristics come to us is what we have to work with and it is this which distinguishes this year from last. In 2020, a tough comp as it was probably the best vintage of the last 25 years, the dry, sunny weather during harvest gave us the luxury of letting the grapes hang on the vine to develop optimal flavor, watching the sugar and acid reach ideal levels without much concern for disease (molds, mildew or rot). The cloudiness and wetness this year has us keeping an eye on the condition of the fruit first, and then on the measurable parameters with the understanding that the ideal harvest may not be reached. It may be necessary to pick the fruit early if rot starts to creep in. Luckily, good wines can still be made from fruit in a vintage like this. The white wines may be lighter and crisper, and the reds less tannic, but if the winemaker maintains the appropriate balance, then all will still be good.
I mentioned in the first posting for this year that we acquired a new press before harvest. It was delivered, installed, hooked up and fitted with the necessary gear to run in our press line. And it did! We pressed the first grapes last week, including the natives Niagara and Diamond, hybrid Valvin Muscat, and vinifera Bacchus (a German variety that we use in our Falling Waters sparkling wine). The press has a series of automatic cycles that lets us choose how the grapes are pressed, to control how much pressure is applied and for how long, and to choose how many times the drum is rotated (to break up the cake of pressed grapes) before reapplying more pressure. Ultimately, this control can yield a higher quality (and quantity) juice. This can be especially important in a year where the condition of the fruit is less than ideal.
We'll finish up the Niagara this coming week and start bringing in Seyval Blanc, Fredonia, Zweigelt, Dornfelder, Pinot Blanc and Auxerrois (a new variety for us this year). The Pinot Noir and Pinot Gris are being watched very carefully and if necessary, they, too, will be harvested. All of these varieties were looking really good—clean and developing good flavor, and I'm still confident we'll realize a quality level that yields some nice wine for the year.
Bob Green
PIWC Executive Winemaker
Report 2 - September 5, 2021


We're in transition time, both in the vineyard and the rest of the region. With August moving into September, the change from high summer into late summer and early fall is palpable. The best days are still warm, even hot, and the air is dry and the sun is brilliant. Nights are cool, perfect for bringing out the best in the red varieties. Other days show the other side of this time of year with cool temperatures and heavy clouds hanging low, a constant threat of rain—not the sudden and short rain shower of summer, but the slow drizzle of fall. In the last week, it seems we've experienced the full range of conditions between these two. Hurricane Ida wreaked havoc on the South and East Coast, but only gave us a partial day of relatively light rain. It cleared off by the end of the day and dried out quickly. A bullet dodged.

In the vineyard, the early varieties have gone through veraison, with berry colors changing from green to golden for white varieties or to bluish-purple for the reds. Red varieties are especially striking this time of year with a mix of color in the clusters. By harvest, this will have evened out and the grapes will be all be fully ripe. We've lost a little ground in the last week or so in terms of ripening, bringing us closer to typical average harvest dates instead of the 4-to-5-days-ahead we were looking at a few weeks ago. No cause for concern, and not really enough of a change to require adjusting the schedule. Even with some variable weather lately, better conditions have had the edge so we are still in the hunt for a good quality vintage. We need good conditions to hold with lots of sun and dry weather over the next several weeks to realize a good quality vintage this year...so think good thoughts for us.

Later this week we bring in the first of our grapes for the 2021 vintage. The honor this year goes to Niagara, and it will be the first local juice that we have available by the weekend. Otherwise, my focus will be collecting and analyzing grape samples to begin to pinpoint when to harvest each variety while also keeping an eye on the weather. Of course, the growers are heavily involved in this process with us and there is constant communication with each of them regarding timing, health of the vine and fruit, and the logistics of harvesting this much fruit.
Bob Green
PIWC Executive Winemaker
Report 1 - August 27, 2021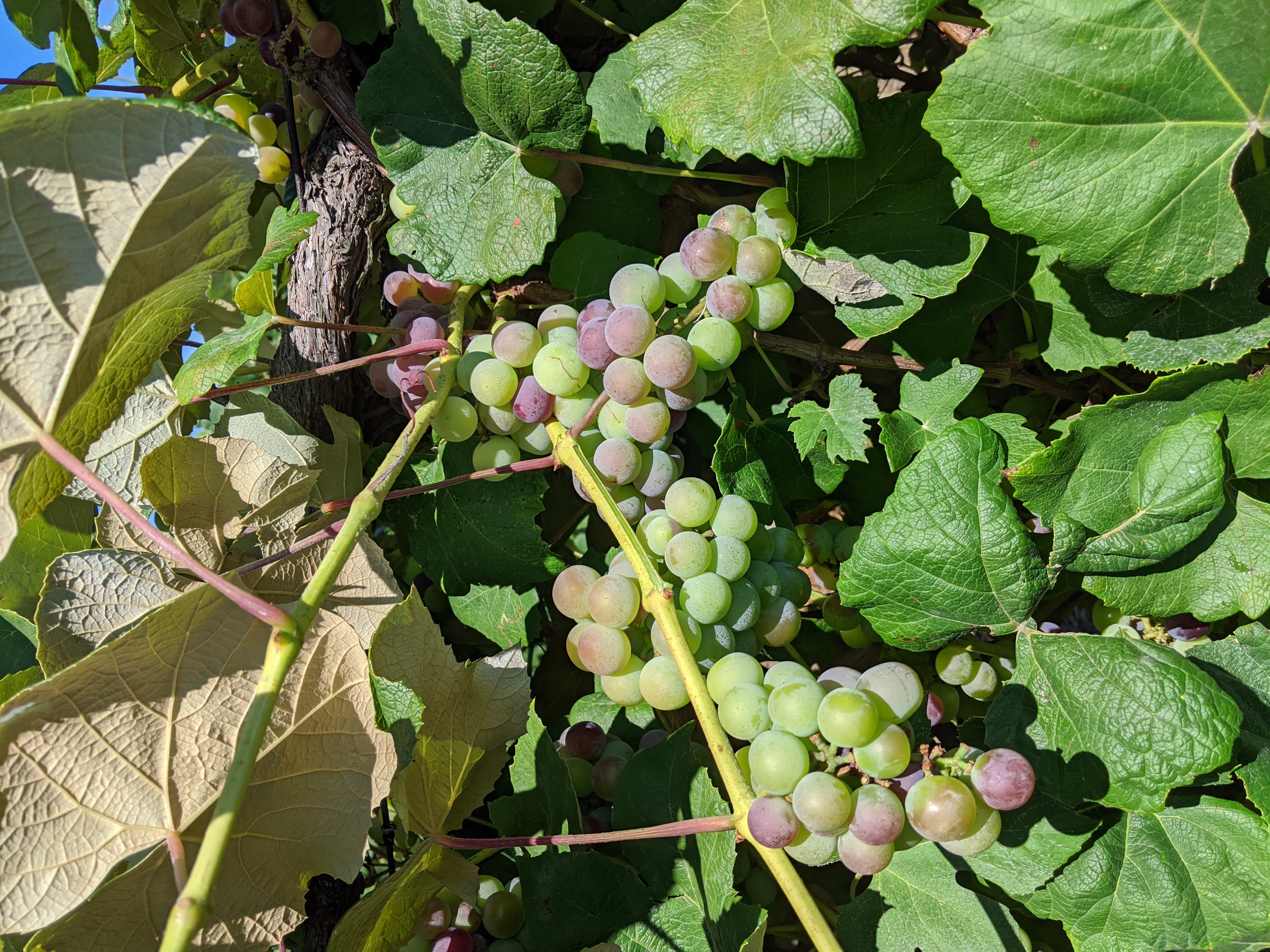 The 2020 growing season is a tough act to follow as it was one of the best vintages in the last 20 years with just about everything going right. 2020 was a continuing gift into 2021 because this year's clusters were actually formed in the prior year and are actually visible with tiny little flower buds—one for each berry—when the new bud opens in the spring. Even with that advantage 2021 has been a bit more nerve-wracking but it still has a chance to turn out well. We successfully navigated the early hurdles in our annual Path of Perils. Peril #1 (Bitter Prolonged Winter Cold) - The winter was fairly mild with good snow protection resulting in minimal winter damage to most varieties. Peril #2 (Late Frost) - There was a late April frost but no early warm spells so bud break on our wine grapes held long enough that for the most part everything but Concords avoided frost damage to new shoots and buds on the vines. Peril #3 (Cloudy, Cold, Wet Early Summer) - Well....that's where the good times slowed their roll a bit. Like much of the nation, we started the growing season with concerns of being in drought conditions. But while the rest of the nation was in the grips of exceptionally hot and dry weather, we were abnormally cool and rainy, with July going down as the third wettest on record. Then we had a steady day or two of rain from Hurricane Fred, with some areas in the region getting several inches during this time. Needless to say, drought is no longer an issue for us. High humidity and rain like this can increase disease pressure, but our growers were diligent about keeping ahead of it with effective canopy management and sprays as needed. So, we badly needed a good August, where things really begin to happen with ripening and, so far, August has been kind. Difficult conditions like we had earlier this summer can be overcome if the weather cooperates with lots of sun and warmth to get us through this final push to ripeness. We are now in the critical time, as far as sun, heat, rain and ripening go. What looked like a potentially problematic growing season is back on track to be pretty decent if continued good conditions can hold. Let's hope for sun and dry conditions to last for the next several weeks (at least). The cooler temperatures in June and July slowed growth down from May's early start and we are now only about 4-5 days ahead of typical schedule, according to early indicators to gauge timing of harvest. After numerous conversations and trips to the vineyards we source, we have put together our best estimates for harvest dates and yield for the varieties we bring in and it currently looks like we'll begin to harvest our first grapes around September 10th.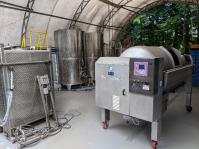 We are continuing our press pad upgrade this year with more tanks, jacketed to allow us to chill juices immediately after pressing to maintain quality, and a new press! Our venerable Willmes bladder press has served us very well and faithfully for many years (decades?), but while there is something to be said for the simplicity of manual control valves and over-built painted steel frames, the allure of electronically controlled cycles and a shiny, stainless steel, easily sanitized press basket is pretty irresistible. This will help us continue to improve the quality of our juices and wine, which is, and has always been, our ultimate goal. In addition, we are increasing the number of jacketed fermenters to allow greater control of white and rosé fermentations for our own wines.

Let's hope conditions and our luck continue as they are and we stay on track for a good vintage. Stay tuned for more updates as we move closer to Harvest 2021!
Bob Green
PIWC Executive Winemaker
---
Local Grapes and Juice and CA Grape Availability
This year's crop is expected to be large and we are optimistic about the quality as well. We should have good availability for Local Grapes and Juices. You may also wish to consider our CA Grapes and Juices, Fresh Australian Juice, and Fresh Italian Juice options in addition to your local purchases. We will be accepting pre-orders for grapes by the pound and ton. Pricing will be based on the volume you purchase. You can pre-order your local juice online or by phone and must be picked up at the winery. Grapes will only be sold via fax or over the phone.
For all the details, visit our Local Harvest page if you are ready to purchase.
We will have a better estimate of when you can pick up your grapes when it gets closer to harvest. These varieties are also subject to change due to Mother Nature and will be updated as the harvest and pre-sale date nears.
Visit our Grapes and Juices pages to stay up to date on all developments Also like us on Facebook and be sure you are on our email list to ensure you don't miss any Fresh Grapes and Juices news.