Fresh Australian Juice for Winemaking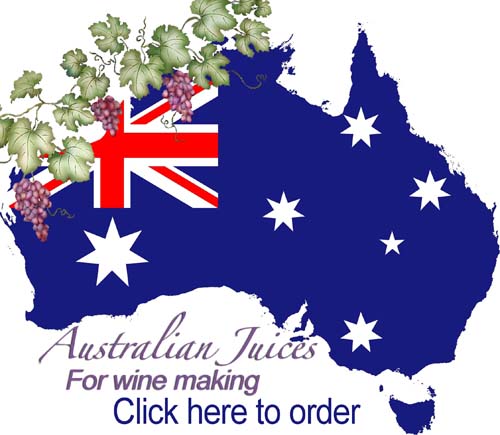 ---
2021 AUSSIE JUICE PAILS ARE HERE! WE HAVE SEVERAL VARIETIES TO CHOOSE FROM...TAKE A LOOK BELOW.
Presque Isle Wine Cellars is proud to be importing high quality fresh Australian juice for yet another year. The Fresh imported Australian juice is aseptically packed and enzymed with no yeast added. It is kept at just above freezing from harvest until it is sold. Thanks to the aseptic packaging and temperature control the juice will maintain freshness and stability for months on end.
We CAN SHIP these juices anywhere in the USA! We use FedEx or Truck LTL. Call us for details on shipping. Click here to see typical shipping costs.
Click here to see the 2021's specs on this juice.
We have made some great wine ourselves from these juices and can personally attest to their quality and consistency. Our Ripper Red, using Aussie Shiraz made from these juices, has become one of our most popular wines.
The following varietals are available for 2021/2022:
Cabernet Sauvignon (Red), Shiraz (Red), Petit Verdot (Red), Grenache (Red), Merlot (Red), Chardonnay (White), Sauvignon Blanc (White), and Chenin Blanc (White). either in 20 L (5.3 gallon) pails or 195 L (51.51 gallon) drums. Click here to learn more about these varieties.
PRICE PER PAIL $80
PRICE FOR 51.5 GALLON DRUM $650
No Yeast Added. Rather than having the same yeast added to every variety of juice, we are giving you the ability to choose the best yeast for each variety and style of wine you want to make.
Our custom fermentation packets offer our Winemaker's personal selections of the optimal yeast for each variety. Many of these yeast strains are only packaged in quantities suitable for commercial applications, but we are breaking them down in quantities suitable for 5 gallons batches. Along with the yeast, each packet includes pre-measured quantities of nutrients to aid fermentation. These packets will give you the same tools our own award-winning professional winemakers use to achieve the best results.
Commercial Customers: Volume discounts are available. Please contact our Commercial Sales Manager Randy at 814-725-1314 ext. 209 or rbranch@piwine.com for more details - we have many options available to meet your needs.