Presque Isle Wine Cellars' Wines Now Available at Erie Wegmans

We are pleased to announce that Presque Isle Wine Cellars' wines are now available to purchase at both Erie Wegmans stores. Wegmans Erie West on West Ridge Road, and Wegmans Erie Peach St on Peach Street in Erie will each carry 13 of our top selling wines. Stop by soon and pick up a few bottles of Pennsylvania's finest wines from Pennsylvania's Pioneer Winery.
Wegmans Erie West - 5028 West Ridge Road, Erie, PA 16506 Wegmans Erie Peach St - 6143 Peach Street, Erie, PA 16509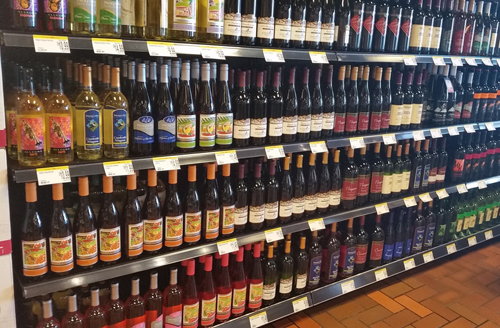 Wines that are currently sold in these locations include: Hot Kisses, Blushing Heron, Creekside Niagara, Blusecco, Creekside Concord, Pink Catawba, Freeport Red, Bianco Fresco, Noiret, Reflections of Lake Erie, Pinot Grigio, Falling Waters, and Freeport White.
Don't see your favorite Presque Isle Wine available for sale? Please be sure to talk to a Wegmans associate at your store to let them know which wines you would like them to carry, or stop by one of our locations to purchase directly from us.
See more pictures of our wine on the Wegmans shelves in our Facebook Photo Album here, and be sure to like us on Facebook so you don't miss out on all our news and events.
All of the wines that are produced here at Presque Isle Wine Cellars are also available for purchase at the following locations:
Isle House and Winemaking Supply Shop at Presque Isle Wine Cellars
9440 W Main St, North East, PA 16428
Presque Isle Wine Cellars at the Colony
2658 W 8th St, Erie, PA 16505
Other Outlet Locations Seasonally: see locations here
Online Wine Store of Presque Isle Wine Cellars
PA Customers Shop Online Now!
PIWC WINE CLUB - PIWC is also excited to announce the launch of its PIWC Wine Club, so you can give yourself or someone special the Gift of Wine throughout the year, and enjoy other great benefits. Learn more and Join The Club!
---