Young Wine Fermented "On the Skins"
---
2022 IS LOOKING LIKE A MEMORABLE VINTAGE NOT TO BE MISSED!
Get the benefits of making a traditional red wine from premium fresh grapes without having to make the investment in processing time and equipment! Let our expert winemakers get the process started for you. This allows you to finish and personalize your wine as you desire.
Our Young Wine is made from premium fresh local grapes; this young red wine is crushed and fermented "on the skins" by our expert staff to extract the full color, complexity, and tannins before being pressed for you to take back to your cellar. With further applied techniques and fermentation, you can shape this young wine into the style of red wine you desire. Bring your own container, or purchase a new one from us. Young wines have yeast added & enzymes. Sugar levels will NOT be adjusted unless noted so you may need/want to add additional sugar and/or additives such as tannins and mouthfeel enhancers, malo-lactic cultures, oak, etc. Young wines will be fermented 'on-the-skins' to give your wine the best color and other flavor characteristics possible.
Click here to see all current Young Wine availability and pricing.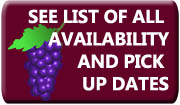 We recommend you Pre-Order your Young Wine to confirm it will be available for you. Young wine may be available in limited varieties without pre-order but only if grapes aren't all sold out.

*This product contains alcohol and can only be sold to our customers 21 and over. Young Wine is available if grapes are not sold out.
Make sure to CLICK THE CHECKBOX beside your desired juice and/or young wine variety and SPECIFY THE QUANTITY (in gallons) of juice/young wine you would like before clicking the ADD TO CART button.
Click the "Select" box and choose a quantity for the product you would like to order, and then click "Add to Cart."