juice_california-pails
---
2023 California Juices Ordering is Now Closed
2023 ORDER DEADLINE: Sept 21st 2023
Juice Pails Must be Picked Up at the Winery Sept 29th - Oct 1st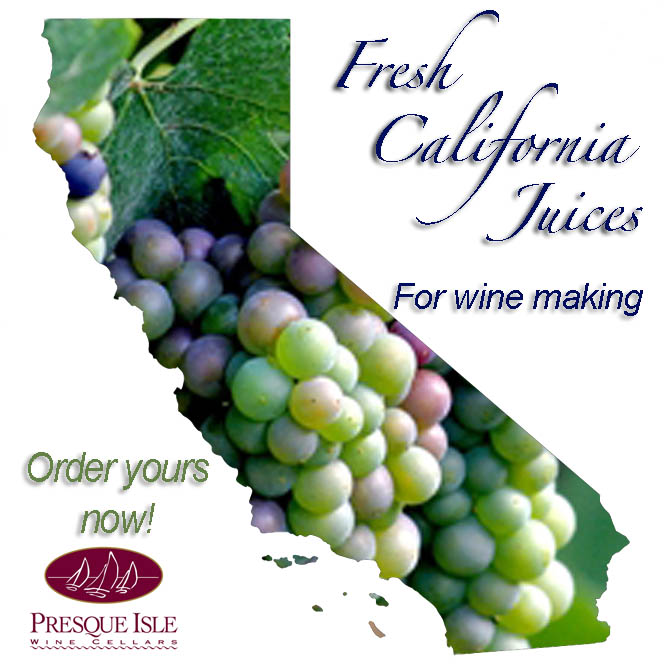 Fresh from the 2023 California harvest, we are happy to offer you 16 varieties of grape juices available in 6-gallon pails or 55-gallon drums or 265-gallon totes (by special order) with no yeast added. See more details about these varieties. Be sure to pre-order to guarantee your desired varieties and quantities. Orders can be placed online by browsing and selecting individual items of by using the convenient ONLINE ORDER FORM below, or via PHONE at 814-725-1314. Quantities of 10+ pails are discounted. Click here for a PDF order form for your reference.
Varieties Available: We are offering 16 varieties of these juices from California, available in 6 gallon pails, 55 gallon drums, or 265 gallon totes (by special order) for the commercial customer. See more details about these varieties.
Click here for our 2023 CA Juice Chemistry
Commercial Customers. Please contact us first to help locate whatever varieties you may need. Contact Jason Schwenk at 814-725-1314 ext. 218 jschwenk@piwine.com first for all of your grape and juice needs. Jason can answer your questions regarding California Juice drums and totes and custom quote requests.
Fresh, whole juice made from 100% California Central Valley grapes from the current harvest.
Custom starter fermentation packets available for purchase, and include our recommended yeast and additives specially selected for each variety so there is no guessing what to use.
Includes juice specifications and step by step instruction sheet
Includes Unlimited Winemaking Consultation and Advice from the professional winemakers and supply specialists at Presque Isle Wine Cellars
Finished wine is a high quality, authentic wine from premium California grown grapes that you will be proud to share with your family and friends.
No Yeast Added. What does this mean to you, the winemaker? Rather than having the same yeast added to every variety of juice, we are giving you the ability to choose the best yeast for each variety. Our custom fermentation packets offer our Winemaker's recommended selections of the optimal yeast for each variety. Many of these yeast strains are only packaged in quantities suitable for commercial applications, but we are breaking them down in quantities suitable for 6 gallons batches. Along with the yeast, each packet includes pre-measured quantities of nutrients to aid fermentation. These packets will give you the same tools professional winemakers use to achieve the best results.
See our special Fermentation Packets with recommended yeast and nutrients for each pail variety custom selected by our Winemaker. See the California Juice Order Form for the recommended fermentation packet for each variety.
These Juices cannot be shipped and must be picked up at the winery. If you need a SHIPPABLE fresh juice option, try our premium Australian Juices that can be shipped throughout the continental USA.
Make sure to CLICK THE CHECKBOX beside each your desired juice varieties and SPECIFY THE QUANTITY (of pails) of each California juice you would like before clicking the ADD TO CART button.
---
Click the "Select" box and choose a quantity for the product you would like to order, and then click "Add to Cart."