Regional Events and Festivals
Presque Isle Wine Cellars is proud to be a part of a variety of events and happenings in and around Erie County, and beyond! Please consider visiting us at one of the following festivals, wine tasting, fundraising event, or other happening listed below to say hello and stock up your wine cellar with our award winning Presque Isle Wine Cellars Wine. Remember that you can also purchase our wine online in our online wine store if you are located in select states.
---
REGIONAL EVENTS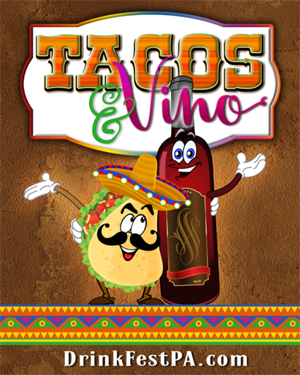 Pittsburgh's Tacos 'n Vino Food Fest"acular"

David L. Lawrence Convention Center, Pittsburgh, PA | April 14th, 2018 12pm-6pm | Tickets start at $11
Presque Isle Wine Cellars will be in attendance serving our award winning wines at this event! Join us for this inside event - enjoy entertainment, food, wine, and shopping!
No Purchase Necessary for Wine Tastings/Sampling- included with entry fee. All wineries will have a One Ounce Plastic Tasting Cup to provide Patrons sampling their wine. However, purchasing an "Official Stemless or Stemmed Tasting Glass" will help to reduce plastic waste and you'll have a wonderful souvenir from today's event
Bottle Check so that you can Sample, Shop and Enjoy!
North East Uncorked: The Great Gatsby
Downtown North East, PA | May 5th, 2018, 2pm or 6pm | Tickets $25
North East Uncorked has moved to May 5, 2018!! Two sessions will take place Saturday, May 5 at 2:00 p.m. and 6:00 p.m. with a 1920's themed wine walk and murder mystery. It's an evening of murder, mayhem and the mob! Learn more.
Make sure to visit Presque Isle Wine Cellars in the Serendipity Consignment Boutique at 3 W. Main St during the event!
Learn more and purchase tickets here.
---
Experience Lake Erie Wine Country located on the south shore of beautiful Lake Erie in Pennsylvania and New York. Here you'll step back in time as you explore the wineries, villages and beaches that are nestled among green rolling hills in the midst of 30,000 contiguous acres of luscious, fragrant grape vineyards.
Wine and Cheese Weekend 2018
Lake Erie Wine Country Wineries | April 20th-22nd, 2018 | Tickets must be purchased
Visit all the wineries for fabulous cheese-inspired food samples, each paired with a complementary wine. Cheese provided by Yancey's Fancy. This year, Wine & Cheese Weekend has an "International Flair!"
Sponsored by: Yancey's Fancy
Tickets include:
food & wine sample pairing at each winery (Sorry, but wineries cannot accommodate every special diet.)
Wine tasting
great gift!
booklet containing all of the recipes of the foods you'll be tasting
Lake Erie Wine Country wine glass
$5 voucher to use at any winery or at certain restaurants designated on the back of the voucher
Tickets for all three days are $38. Designated driver tickets are $20. One day tickets for either Friday OR Sunday are $28. See here for more details and to purchase tickets!
A Charming Weekend in Lake Erie Wine Country 2018
Lake Erie Wine Country Wineries | April 18th-20th, 2018 | Tickets must be purchased
Come taste some delicious wines at our 22 wineries. Along the way, you can collect a charm at each winery for the bracelet that you will receive when you check in! Presque Isle Wine Cellars will be giving out a sailboat charm!
Please note, you may purchase tickets with a Charming Luncheon option served on Saturday at the Grape Discovery Center, which is ideally located amongst several wineries in Westfield, NY. The Grape Discovery Center's Charming Luncheon will be available Saturday, May 19, between 11:30 am and 2:30 pm.
Lake Erie Wine Country encourages responsible alcohol consumption. Non-alcoholic beverages will be provided gratis to Designated Drivers by member wineries.
You must personally visit a winery during the event hours to get that winery's charm. Some wineries will be giving the same charm as last year. Thus, if you attended last year, you may get a duplicate charm.
A bracelet at your host winery
A charm at each particpating winery
Wine tasting at each winery (their regular tasting, which is 3-6 tastes)
Tickets include:
a bracelet at your host winery
a charm at each participating winery
wine tasting at each winery (regular tasting, typically 3-6 tastes)
Princess tickets include the charms, Prince tickets do not include charms. Princess or Prince 3 day tickets are $30. Princess or Prince 3 day tickets with Saturday lunch at the grape discovery center are $45. See here for more details and to purchase tickets!
ALSO SEE EVENTS AT OUR WINERY AND RETAIL LOCATIONS
---