Using Zyme-O-Clear Liquid
Using Zyme-O-Clear Liquid
Zyme-O-Clear is a clarification enzyme specifically designed for settling primarily white juices. It also has the ability to improve filtration rates. It is an enzymatic preparation created from non GMO Aspergilllus niger strains according to a unique solid state fermentation process. Zyme-O-Clear also preserves the freshness and aromatic qualities of the grapes as well as increased yield when added to the press. The addition of Zyme-O-Clear will also improve compaction of the lees resulting in smaller losses at racking.
Properties
Alcohol and SO2 do not affect activity at the usual concentrations in wines. Pectin degrading enzymes efficiency is dependent on the equilibrium of the 3 main specific activities: pectin methylesterase endopolygalacturonase and pectin lyase. Zyme-O-Clear has been formulated for optimum efficiency.
The following minimum activities are guaranteed: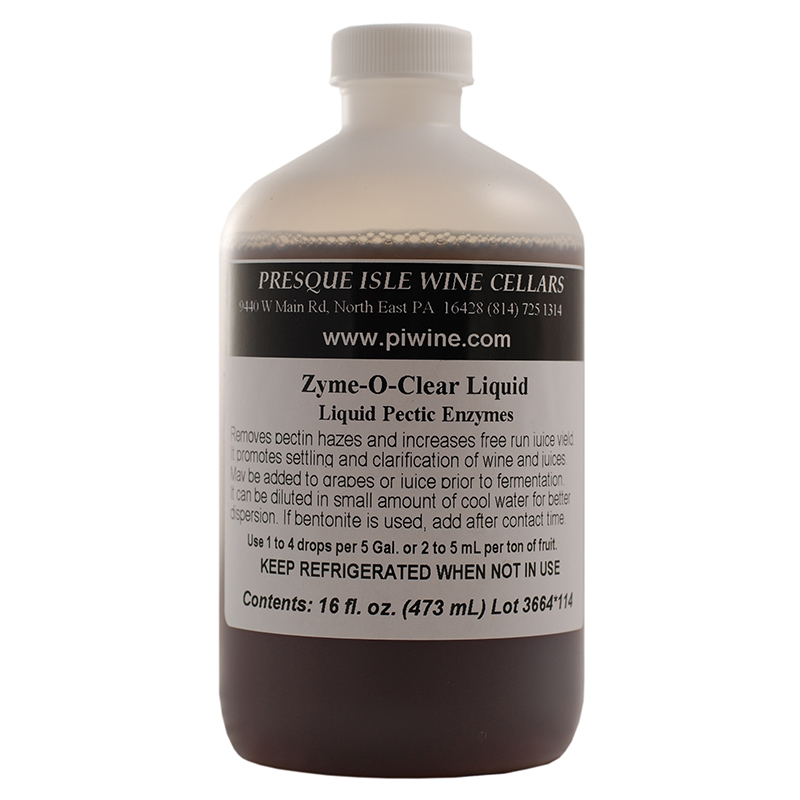 Pectinmethylesterase > 700 u/g
Polygalacturonase > 3500 u/g
Pectinlyase > 100 u/g
Available as a Liquid
Directions for Use
Zyme-O-Clear Liquid can be diluted in a small quantity of cool water before addition in the tank. This allows for better dispersion. Sprinkle over the grapes as they proceed to the press or add to juice before starting alcoholic fermentation. Since Bentonite is a protein adsorbing agent, bentonite must be added after contact time.
Hazard Warning
Eye protection is recommended. In case of contact with eyes, rinse thoroughly with water.
Dosage
Commercial application rate: 2 -5 ml/Ton
Hobbyist application rate: 1-4 drops/5 gallon
View Dosage Table for Reds and Whites
---