PIWC Wines Take Home 13 Medals from 2017 Lone Star Wine Competition
---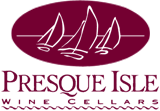 News Release
FOR IMMEDIATE RELEASE
July 14th, 2017
For more information contact:
Randy Branch 814-725-1314 ext 209
www.piwine.com
PRESQUE ISLE WINE CELLARS WINS 13 MEDALS IN THE 2017 LONE STAR INTERNATIONAL WINE COMPETITION
On the heels of a 17-medal performance at the Finger Lakes International Wine Competition, Presque Isle Wine Cellars' wines have earned 13 medals in this year's prestigious Lone Star International Wine Competition, hosted by the Texas Wine and Grape Growers Association in Grapevine, TX. In this international competition, wines are not only judged against other wines from the region, but against wines from around the world. Winning awards at the Lone Star International Wine Competition is a testament to the high quality of the wines produced by the winning wineries.
Presque Isle Wine Cellars' 2013 Cabernet Franc and 2016 Eskimo Kisses both won a Gold medal at the competition. Silver medal winners include 2015 Bianco Fresco, 2015 Falling Waters, 2015 Reflections of Lake Erie, 2015 Riesling, and 2015 True Blue. Bronze medal winners include 2015 BluSecco, Creekside Niagara, 2015 Cinnful Kisses, and 2016 Pinot Blanc.
Presque Isle Wine Cellars' wines can be purchased at its Isle House Tasting Room at 9440 W Main Road in North East, its Presque Isle Wine Cellars at the Colony location at 2658 W. 8th Street in Erie, local Erie Wegmans locations, select Erie, Warren, and Meadville Tops Friendly Markets locations, and the new Giant Eagle Millcreek Marketplace location in Erie, as well as online at piwine.com. All of our wines are now available for order and direct shipment to Texas customers from the winery via phone, fax, or online orders. Texas customers can also find our award-winning Kisses Trio of Ice Style late harvest dessert wines at all Central Market stores. For a complete list of where you can purchase Presque Isle Wine Cellars wines, visit https://www.piwine.com/purchasing-our-wines.html.
More information about the Lone Star International Wine Competition can be found at www.txwines.org.
ABOUT PRESQUE ISLE WINE CELLARS
Presque Isle Wine Cellars, "Pennsylvania's Pioneer Winery", is a family-owned winery and winemaking supplies business located in North East, PA, in the heart of the beautiful Lake Erie Wine Growing Region. It began operation in 1964 and has been a leader in the wine industry and winemaking supplies and equipment business since then. In 1969 Presque Isle Wine Cellars became one of the first two Pennsylvania licensed wineries to open since Prohibition. They are proud to produce quality wines from locally and regionally grown grapes that consistently win awards in national and international wine competitions year after year.
- ### -

See PDF version here.