Barrel Use and Care
Barrel Preparation
Before filling the barrel, do one of the following:
Fill the barrel with 3-5 gallons of hot water (potable without chlorine). Place the bung in the bunghole and rotate the barrel from side to side, wetting the interior of the barrel. Allow the barrel to sit, with the bung in place until cool. If there are no leaks present and there is a vacuum when the bung is removed, the barrel should be liquid tight. If possible, allow the water to remain in the barrel at least 8 hrs or overnight to completely rehydrate the barrel. Repeat the process if there is not a vacuum present. Empty the water from the barrel and fill with wine.
Fill the barrel completely with water and allow it to soak for 24 hrs. If you find any leaks, let the barrel soak for an additional 24 hrs.
Avoiding Pressure Buildup
After filling barrels with wine, seepage can occur due to pressure inside the barrel. To prevent seepage caused by pressure: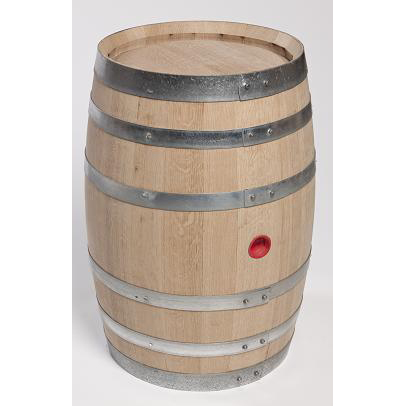 Allow the wine to reach the temperature of the room in which the barrel will be stored. If you add cold wine, it expands as it warms, creating pressure inside the barrel.
Use an airlock in a barrel filled with wine that is not dry or has not undergone malo-lactic fermentation.
Barrel Cleaning and Storage
After emptying wine from a barrel, the barrel must be cleaned and immediately refilled or prepared for storage. To clean the barrel:
Completely drain the wine from the barrel
Rinse the barrel with clear water. If possible, support the barrel with the bung on the bottom in such a way that as you spray up into the barrel, the rinse water can drain as you spray. Alternatively, add 3-5 gallons of clear water and roll the barrel to rinse off any sediment. Drain this completely from the barrel.
Add 3-5 gallons of a hot water solution of either B-Brite (sodium percarbonate) or soda ash. Roll this around for several minutes to completely wash the inside. Drain completely. Do not use a chlorine based sanitizer.
Rinse with clear water, as before.
Add 3-5 gallons of cold water containing 1-2 Tbsp citric acid. Roll the barrel to completely wet the inside of the barrel. This is done to neutralize any alkali from the cleaning agent.
Rinse with clear water, as before.
Do one of the following: Fill with wine, Burn a sulfur wick or disk in the barrel, using a tight-fitting bung. Burn a new wick or disk every 60 days or Fill with a strong (1200-1500 ppm) sulfite solution, containing citric acid to keep the solution acidic. Replace every 30 days.
---