about_business
We are a family-owned wine making supplies and commercial winery business located in North East, PA, in the heart of the beautiful Lake Erie Wine Growing Region. We began operation in 1964 and have been a leader in the winemaking supplies and equipment business since then. In 1969 we also became one of the first two Pennsylvania wineries to open since Prohibition. We are proud to produce quality wines that consistenly win national awards in wine competitions.
Owners: Marlene Moorhead, Doug Moorhead, Erik Moorhead, Lorrie Adair
Learn more about our owners and staff
We're glad you have visited us online and we also invite you to:
Read below for more information on the various aspects of our wine and wine making supplies businesses and on our proud history of over 50 years.
---
Business Aspects
Presque Isle Wine Cellars started in 1964 as a business supplying the winemaking equipment and raw material needs of amateur winemakers, and we are one of the oldest such firms in the country. Over the years, we have also become a leading supplier for small commercial wineries. Our motto is "Everything For the Winemaker," and we believe we have the most comprehensive inventory of supplies and equipment in the business and look forward to meeting all your wine making needs. Our goal since our founding has been to provide the widest selection of quality wine making supplies and equipment to amateur and commercial winemakers at the fairest prices with unparalleled customer service. Whether you are a beginner home winemaker or a professional vintner, we invite you to browse our informative wine making supplies and equipment online catalog for your A to Z wine making needs.
Using the knowledge and experience gained over the years from our wine making supplies business, we have begun carrying beer brewing supplies to meet the needs and requests of our customers. We are continuously growing our beer brewing supply line, adding new products and ingredients regularly. If you believe we are missing a beer brewing product that you require, please let us know and we will consider adding it to our product line.
Each year during our fall grape harvest, typically from mid-September through end of October, we offer the finest quality regional fresh grapes and pressed juices to our wine making customers. The grapes and juices we offer our customers are the same as we use in our own winemaking operations, so our customers get the benefit of the same high quality product standards we demand for ourselves. If you are within striking distance of our facility, we encourage you to try the incomparable experience of starting your winemaking with the fresh stuff, and come by on one of our harvest weekends to pick up your grapes or juice and enjoy the fellowship of other winemakers, the beautiful fall colors, and the smell of grapes permeating the air. In addition to our local grapes and juice wine making products, we offer Californian grapes and juices by pre-order from Stokes Vineyard in Lodi, California and fresh Italian Juice- both offered in the fall. We also now offer fresh Chilean Juice in the spring so our customers can enjoy two wine making seasons each year. Also look for our newest product: Frozen Grape Must from Spain, offered periodically in the fall and spring months. Learn more about our grapes and juices for wine making.
Fine Wines For Every Wine Drinker
We are a leader in the eastern wine industry and have been making award-winning wines since 1969. We make many excellent classic vitis vinifera wines, as well as wines from French hybrids and native vitis labrusca varieties – Concord, Niagara, and Catawba – for which our area is famous. Whether you prefer elegant, dry European style wines or sweeter, fruitier labrusca wines, or something in between; we have quality handcrafted wines you will like at PIWC. Our wines are available at our North East, PA, location, in Pennsylvania State Liquor Stores, and at select retail outlets in Pennsylvania and New York State. Also consider browing our online wine store if you would like to purchase online and live in a state we can legally ship to. Several fine restaurants serve our wine as well. We can also accept orders to ship our wines within Pennsylvania and we are pleased to announce we can now ship to several other states as well. Visit our Wine page to learn more about our wines. Visit our tasting room or order our wines online.
Isle House Wine Tasting Room and Event Facility
This lovely restored farmhouse that is our Isle House serves as our tasting room, gift shop, and events center with great wine and food experiences created by Presque Isle Wine Cellars and local partnering chefs. Schedule your next dinner, meeting, or special event with us, or enjoy our many special dinner events and classes. Our Isle House and grounds are also a beautiful setting for weddings and showers. Learn more about the Isle House.
PIWC Consulting
Doug Moorhead (1934-2021) came from a family that has been growing grapes in our area since the 1870's. He also introduced the successful growing of vinifera grapes to the Lake Erie area and has led our wine making operation since the 1960's. Bob green, our Executive Winemaker, has been working in the wine industry for over 35 years. With more than 70 years of professional winemaking and vineyarding experience between them, Doug and Bob are experts to say the least. With their experience we offer services in consulting on commercial winery set-up, design, and operations and management. Please contact us if you are interested in these services, and we can develop a custom proposal to suit your needs.
---
Presque Isle Wine Cellars History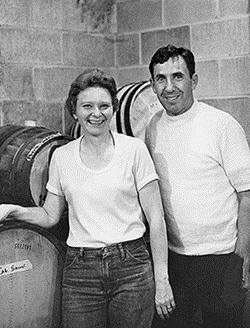 The company began operations in 1964 as a supplier of grapes and wine making equipment for local amateur winemakers. It began with two founding partners, Douglas P Moorhead and Bill Konnerth. From its inception, there was the goal of it also becoming a winery should the laws of Pennsylvania be changed to make such a venture practical.
Bill had been purchasing grapes for winemaking purposes from Doug's father in the mid 1950's, usually from varieties such as Delaware (which was regarded as the best wine grape from the region in that era) and from Catawba, Isabella and Gladwin. Sharing an interest in wine, they started a group known as the Erie County Wine Club. The original group was primarily interested in making wines. Doug and Bill did most of the work finding vendors to supply the needs of the club and it was immediately obvious that there were business opportunities in serving winemakers in the form of winemaking supply and guidance. Others such as Semplex, in Minneapolis and Aetna Bottle in Portland, Oregon and others originated at about the same time. We hit the rising tide and grew rapidly until the mid 70's when our industry was hit with the recession, a rise in prohibition sentiment and the gasoline shortages. In addition, much of the winemaking growth was fueled by inferior grape concentrates which did much to discourage many of the fledgling winemakers. At the height of the fad, we were aware of over 2,000 vendors dealing with amateur winemakers. A couple of years later we found fewer than 300! With the ebbing of neo-Prohibitionist sentiment and influence, the more effective messaging of wine as a healthy and interesting beverage, the increased cultural interest in quality food and beverage experiences, and the increased range and availability of excellent raw materials, wine and winemaking have made a strong comeback.
The business continues along its original paths of supplying home winemakers and commercial winemakers with supplies and equipment used in the production of wine, as well as supplying quality fruit and pressed juice for the production of wine. We are proud to have customers in all 50 states, and the majority of Canadian provinces. We also have customers from many states and provinces east of the Mississippi that visit us during our harvest to take advantage of our quality fresh juice and grape offerings.
Along with our winemaking supply, business we have come to be regarded as one of the top producers of quality wines in the Lake Erie Viticultural Appellation and have worked tirelessly with other wineries in the region to raise the quality of vineyard and winery practices and wines produced in the region, and to raise the level of public recognition that high quality wines are produced here. Our wine production has grown in recent years to meet this increased awareness and demand for our wines.
Presque Isle Wine Cellars and nearby Penn Shore Vineyards were the first two wineries to open under the Limited Winery Act of 1968, both opening on the same day in September 1969. The Limited Winery Act allowed Pennsylvania wineries to sell their self-produced wines on premises and not have to compete directly with better known European and California wines on the shelves of Pennsylvania State Liquor Stores, previously the only legal sales outlet. The Act made local wine production practical, and from that small beginning the industry had grown to 173 wineries by 2010. It is one of the few areas of Pennsylvania agriculture which is growing and is a positive factor in stabilizing agricultural production and in supporting tourism in Pennsylvania. Our wine production remained below 3,000 gallons for our first 30 years, but has increased dramatically beginning in 1998 and is now at about 27,000 to 30,000 gallons annual production.
Our red wines are all made by fairly traditional methods using oak barrel aging and malo-lactic fermentations. We have stressed using Vitis vinifera grapes, which we introduced to the Lake Erie area in 1959 (at least if you don't count unsuccessful pre-Prohibition efforts). Our main varieties include Chardonnay, Riesling, Pinot Gris, Pinot Blanc and Viognier for whites and Cabernet Franc, Cabernet Sauvignon, Merlot, Dornfelder, Blaufrankisch, Syrah and Pinot Noir for reds. We have also had success with some promising high quality new French hybrids such as Noiret. Browse our wines in our online wine store.
---
Company Founders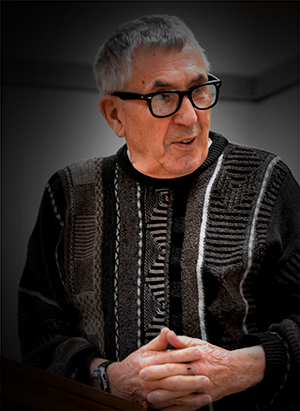 Doug Moorhead grew up on a fruit farm in Harborcreek Township in Erie County, PA, and at 80 still farms on his 170 acre family-owned vineyard, in addition to his activities with Presque Isle Wine Cellars. He graduated from Penn State in 1956 with a degree in Pomology. To help his family get by during the Great Depression, Doug's father, Douglas McCord Moorhead, had a side business brokering what few wine varieties there were in the area with several small ethnic wineries in or near Cleveland, Ohio and with Gold Seal Vineyards and Widmer Vineyards in the Finger Lakes Region. He was also very active in cooperatives in the Lake Erie area and was President of National Grape Cooperative when it was able to purchase Welch Foods and vastly improve the economic prospects of Concord growers. He was later President of Welch Foods in the late 1950's. Douglas P Moorhead grew up in that environment and became interested in the economics of growing wine grapes to replace the acreage of other fruits such as sweet and sour cherries, peaches, plums and apples, which had become less and less profitable in the Lake Erie area. Doug had also experimented with nearly 200 French Hybrid varieties and had introduced the growing of European grapes (Vitis vinifera) into the Lake Erie area in the late 1950's. One of his main interests has been to produce quality wines from traditional European grapes grown in Pennsylvania, a goal which several other wineries in the state are now also accomplishing.
Doug was the first chairman of a State Grape Marketing Council, which developed the legislative proposal that became the Pennsylvania Limited Winery Act in 1968. He was a long time director and a past president of The Pennsylvania Wine Association, was a long time director in the National Grape Cooperative, which owns Welch Foods, and was an adjunct professor in the culinary department at Mercyhurst College in North East, PA. He is currently a director of Wine America and The Pennsylvania Grape Marketing Board. He is also the Vice President of Presque Isle Wine Cellars.
In recognition of his accomplishments and contributions to the industry, in 2013 Doug became only the second person to be honored by the Pennsylvania Wine Association with a Lifetime Achievement Award. Doug is a proud Penn Stater and distinguished alum. Read a Penn Stater Magazine profile on Doug and Presque Isle.
Bill Konnerth grew up in Erie, PA, and was a graduate of The University of Pittsburgh. He spent some time on the roads since jobs were not readily available when he graduated. He had a varied working background including chief electrician at a US Steel Coal Mine and later owning a cabinet making shop in Erie that specialized in restoring antiques that had suffered damage. He had relatives who had operated wineries in Erie before Prohibition which sparked his interest in wine. The cabinet making shop began when he had arranged to purchase a country weekly newspaper in Hammondsport, NY, only to have the owner renege on the sale at the time of closing. He was the original winemaker and retired from Presque Isle Wine Cellars in 1975. He spent his remaining years indulging his very active curiosity and becoming a notable amateur videographer. At age 94 was still writing a treatise on the economic effects of free trade, which he had come to think of as being a very bad thing for the USA. Bill died in 2005 at age 95. He was the last surviving vice president of the group headed by Dr. Konstantin Frank and Albert W. Laubengayer who started the American Wine Society.
---