Commercial Winemaking Supplies
*Presque Isle Wine Cellars Supply Store in North East will be closed on Saturday June 1st! We will reopen with regular hours on Monday June 3rd. Our Isle House will remain open for tastings on Saturday.
WINEMAKING SUPPLIES FROM PROFESSIONAL WINEMAKERS SINCE 1964
Presque Isle Wine Cellars' catalog of wine making supplies is priced to meet the needs of the commercial winemaker, providing everything commercial wineries need, from the crusher de-stemmers to the bottles the wine is ultimately placed in, and everything in between. Shop our wine making supplies now to discover how much we offer. Also learn more about our Bulk Wine and Contract Wine Production offerings.
FRESH GRAPES AND JUICE: Harvest season has arrived, and pre-orders for our fall grapes and juice sales have begun. Quantity discounts are available, and special commercial pricing on our offerings is available here (this is a password protected document, please contact us for access).
You may also be interested in our Italian Juice 58 Gallon Drums, priced specifically for our commercial customers. Note that our juice is typically a pick up only item, but when ordering sufficient quantities, we may be able to arrange shipping or delivery of the product at additional cost. Call us to inquire at 814.725.1314 ext. 209. Save when you purchase the bulk Italian Juice drums rather than individual juice pails!
VIEW COMMERCIAL PRICING OF FRESH GRAPES AND JUICE (CONTACT US FOR PASSWORD)
---
Don't wish to register yet? No problem!
Shop our winemaking supplies as a guest. There is no login required to purchase, but it is to your advantage to do so. Read below to learn more.
---
Why Presque Isle Wine Cellars is the Right Choice For Commercial Wineries

Experience: Presque Isle Wine Cellars is an operating, award winning winery that has been in business for over 50 years serving commercial customers all over the world. We use the products we sell, know how they work, and have the knowledge and expertise to deliver unparalleled customer service, helping you to solve problems and answer your questions on either the products or winemaking process itself.

Quality: If we wouldn't use it ourselves, we wouldn't be selling it. We choose vendors for quality and value knowing commercial wineries need to produce the best quality wine possible, while still watching their costs.

Value: All of our products designed for commercial use are priced both in our catalog and on our website at wholesale. Other products are offered in different sizes and quantities (larger of each priced at the wholesale prices).

Ease of Use: Everything you need is in one place! Our website and catalog are designed to provide ease in locating products and ordering. We don't make you go to different websites for different products. All you have to do is download a credit application, submit it, and when approved you will be able to charge your online orders to your account without giving your credit card information.

Credit Terms: We provide credit to our commercial customers upon approval. Simply fill out our credit application. After completion, print and sign the document, and fax or mail the application to us.

Priced for Commercial Customers: Our single set of prices is competitive, and offers you the best value for your money.

Flexibility: If you require different (larger/smaller) quantities of items, we will provide you with a custom quote. Our staff is ready to assist you- just give us a call at (814) 725-1314.
---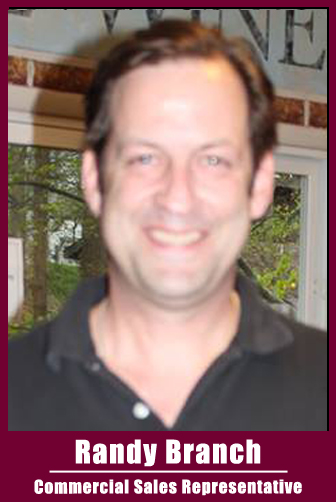 Meet Our Commercial Sales Manager
Randy Branch
Randy joined PIWC in May 2014 and brings with him over 25 years of sales experience in industries such as insurance, technology and commercial real estate. A native of Olean, NY and a graduate of the College of Wooster, Randy helps to provide our commercial customers with the supplies, equipment, and grapes and juices that are needed to craft extraordinary wine.
Contact Randy By Phone: (814) 725-1314 ext. 209
Contact Randy via Email: rbranch@piwine.com
---