2023 Winemaker's Harvest Report
Scroll down to see earlier reports
2023 Winemaker's Growing Season Notes and Observations
Report 6 - October 6, 2023 Harvest Assessment #4
The last couple of weeks were about as ideal as we could ask for this time of year. Sunny skies, warm temperatures (in the 80s even!), and cool nights are perfect for bringing ripeness to the finish line. Sugar and acid levels are showing the effects of the cool season, with acid levels higher and sugar levels lower than ideal, but these numbers improved significantly from where they were a couple weeks ago with these perfect conditions. Previously, I mentioned that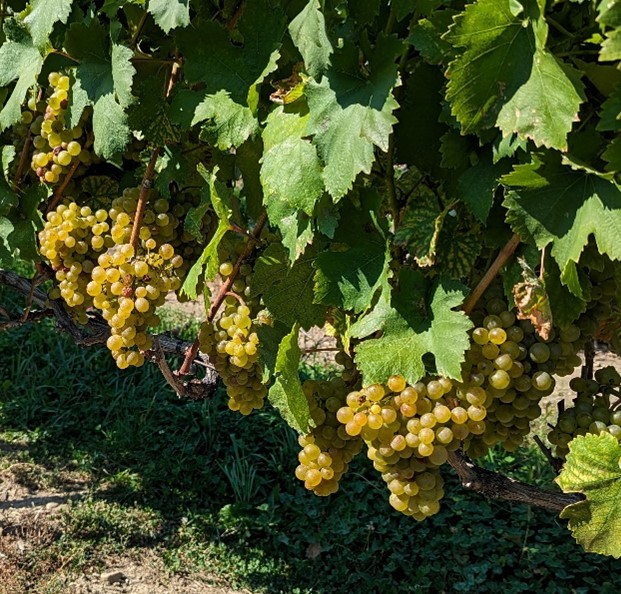 some of the varieties were vulnerable to mildews which could damage leaves, but the sunlight and dry air have stopped it in its tracks, taking that concern away for the time being.
Where we do see ripening is in the skin color. White varieties such as Chardonnay and Grüner Veltliner are turning a nice golden brown, which correlates with the development of characteristic aromatics for these varieties. We can compensate for the lower sugar and higher acid easily in the winery, but we can't replace missing aromas, so this final step in ripening is all-important and promising.
Red varieties like Pinot Noir also undergo similar changes, and this is expressed in deeper color and less astringent, but fuller, tannins in the finished wines. Of course, the development of aromatics is as important for these varieties as it is in the whites.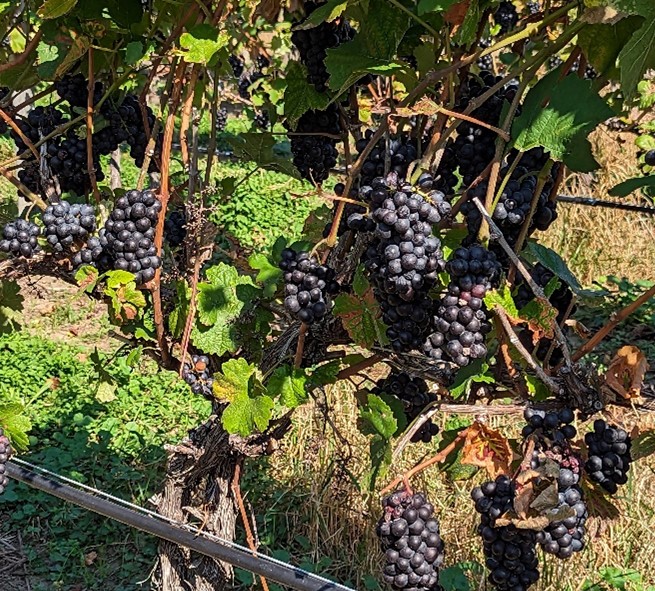 We're throwing salt over the shoulder and crossing our fingers that this great weather pattern is going to continue throughout the rest of harvest.
The rain moved in last evening, and the temperatures fell to the low 60s as the high. More rain is expected throughout the coming week, and on some days the high temperatures will be in the 40s. In conditions like this, we may not see much development in terms of ripeness, but these conditions also let the grapes hang unaffected by disease—kind of like being in a refrigerator. The weather will shift—it always does—and we hope to see more favorable conditions later in the month for the late-season varieties.
Bob Green
PIWC Executive Winemaker
Report 5 - September 25, 2023 Harvest Assessment #3
We're in the last week of September, just coming into a big push to bring in the midseason varieties. It's been an interesting season, so far. Three to four weeks ago the outlook was pretty bleak—the cool, wet summer was manifesting in a higher disease pressure in the canopy in the form of downy and powdery mildews. The normal course of action is to apply sprays that knock it down minimizing lasting damage. The problem was that the window between periods of rain was often not big enough for treatment to be as complete as it should be. Some fruit was affected—berries would stop maturing and form a hard, crusty skin—and some of the leaves developed dead spots.
Then a new weather pattern settled in, bringing dry conditions and plentiful sunlight.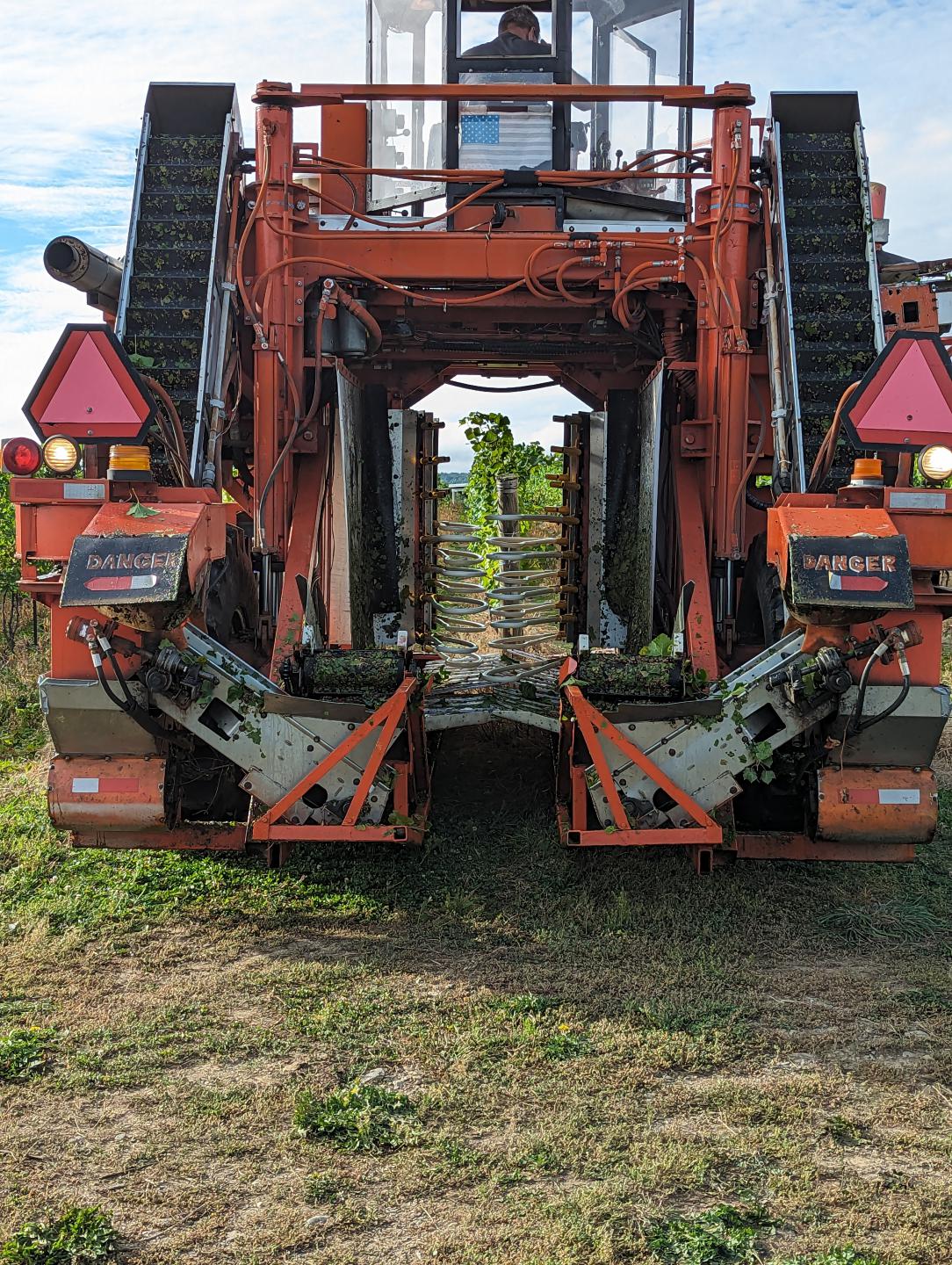 This is actually a fairly common occurrence for us, these late summer/early fall patterns that bring warm temperatures and long periods between rains. And this is also a time when a pattern like this can have a huge positive impact on overall quality, resulting in higher quality than prior conditions presaged. So, I am happy to report now that the outlook is quite better than it was just a short time ago.

Pinot Gris was harvested today. The fruit was beautiful, full of flavor and nicely balanced. We machine-harvest almost all of our fruit; handpicking labor availability and cost have pretty much forced that. Another advantage is that we can pick a day's worth of processing in the morning and deliver it to us while it is still cool. The same quantity of hand-harvested fruit might take 2 days and on warm days, would be warm when delivered to us. With new harvesters, the technology allows very selective harvesting of the fruit and what goes into the harvest is just clean fruit.
We'll finish the week with Vignoles and more Pinot Gris; Pinot Noir will also be ready soon, maybe by the week's end as well. The current dry, sunny weather is supposed to hang around for a while, so things are looking good!
Bob Green
PIWC Executive Winemaker
Report 4 - September 16, 2023 Harvest Assessment #2
The first week of harvest is now in the books. The crop size is quite ample with initial ripeness is a little on the low side. With the rain and cloudy weather we had for most of the growing season, this is no surprise. This combination certainly reduces the vine's ability to produce sugar and develop flavor. Another factor challenging ripening was the effect of the smoke that drifted in from the wildfires in Canada. Although the impact of the effect is still being debated, with some saying there was no effect, and others (myself included) thinking that the days we spent under a definite shadow of smoke particles must have had some impact on the amount of sunlight available to the vine. These days were also noticeably cooler. Luckily, the timing was early in the season so that smoke taint—the uptake of odor compounds from the smoke into the berries—did not happen. The fires were also too far away for the intensity of odor to have an effect, even if was noticeable in the air.
What was nice to see was the degree to which our growers have controlled damage from disease and maximized ripeness even in challenging conditions.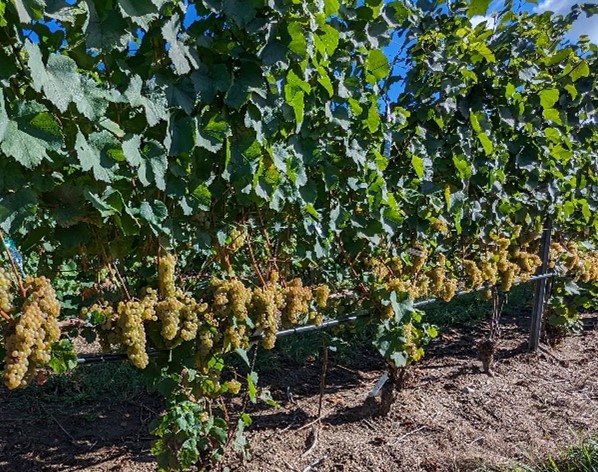 The photo to the left is a row of Auxerrois that shows how trellising and canopy management is used to provide the proper growing structure to maximize air flow and reduce humidity within the canopy, to expose the fruit to sunlight to promote flavor development, and to create a large solar panel of green leaves to capture energy from the sun to drive the ripening process. The uniformity of the fruiting zone makes it more efficient to harvest whether by hand or machine. This fruit will be harvested toward the end of this coming week, or early the following week and will be used in a blend with Pinot Blanc.
Speaking of this coming week, we'll continue with the earlier varieties Seyval Blanc and Valvin Muscat. The weather has been most cooperative, and the trend looks to be continuing into next week with sunny skies and temperatures in the 70s during the day. Nighttime temperatures are getting into the 50s, which is perfect for color development in the red varieties. With this pattern continuing, we could make up lost ground and realize some very good potential for the later varieties.
Bob Green
PIWC Executive Winemaker
Report 3 - September 11, 2023 Harvest Assessment #1
Today is our first official day of harvest with the arrival and processing of Diamond. The ripening and timing of harvest with this variety pretty much represents how it goes with many varieties. We have ideal numbers for various parameters that we would like to achieve—sugar content, total acid content, pH (a measure of how sharp that acid tastes) and aroma intensity. The last parameter is definitely more subjective and requires a certain degree of knowledge about each variety to be of value. It isn't always the case that more is better; some varieties are better for wine if harvested earlier before the aromas develop too much. Niagara comes to mind—too ripe and it picks up a motor oil quality that is not very pleasant. Other varieties need enough hang time for the desirable qualities to develop, taking the flavor from "ho hum" to "wow".
Diamond falls in this latter camp. The best examples have a very pleasant pineapple highlight that replaces some of the native grapiness that is always present in the variety. The challenge is that this flavor develops late in the game, when Botrytis - the infamous mold that can infect grapes and produce either stellar or disastrous results (depending on conditions and intent for the grapes) - starts to infect the berries. In the case of Diamond, Botrytis produces results of the disastrous kind. Timing, then, is key to the game of balancing aroma development and Botrytis growth. If all goes well, the grapes will be clean (minimal Botrytis) when we reach the optimal aroma. Key to this are dry conditions and sun to encourage flavor development in the skin (from the sun) and discourage rot (dryness). The week leading up to this year's Diamond harvest was characterized by sunny, dry days yielding good aroma and very little growth of mold. I should mention that Diamond is a rather versatile grape to work with for winemaking. While it is probably most suited for a lightly sweet fruity wine that emphasizes the pineapple characteristics, there are also many interesting examples in the region with styles that range from dry and barrel-aged to sweet and fruity. It can also be a versatile blending grape to bring in another balanced layer of fruit flavor and crisp acidity, without dominating like Niagara might.
We'll continue harvest with 2 days of Niagara processing before taking a couple days pause before Seyval Blanc, Valvin Muscat and Fredonia are ready for harvest. During this little pause, we will also be setting up for juice sales of these two early varieties. The weather is expected to cool off, but remain fairly dry (stay away, Hurricane Lee!) so we should continue to see grapes ripen in fine fashion. So far so good for Harvest 2023 and call us with your orders! Cheers.
Bob Green
PIWC Executive Winemaker
Report 2 - September 2, 2023 Pre-Harvest Assessment #2
In last week's report, I concluded that while we have had some difficult conditions so far this growing season, it could change if we moved into a hot, dry weather pattern for a while.
Well, guess what? We have good news from the Weather Gods. The 10-day forecast calls for 10 days of sun (with one exception) and temperatures in the 80's at the start and then cooling down by the last few days of the period. This is exactly what we need to give a sun-energy boost to the vines and stop the spread of mold and mildews. All of the varieties are now past veraison, and the vines are focused on ripening fruit. Sun, of course, provides the energy for the vine to function, and a string of warm sunny days can move the ripening along very nicely, boosting sugar levels in the berries. Heat determines the rate at which vines function and the warm temperatures expected will allow the vines to work at full speed, taking full advantage of the sun's energy and giving a nice and much needed ripening spurt.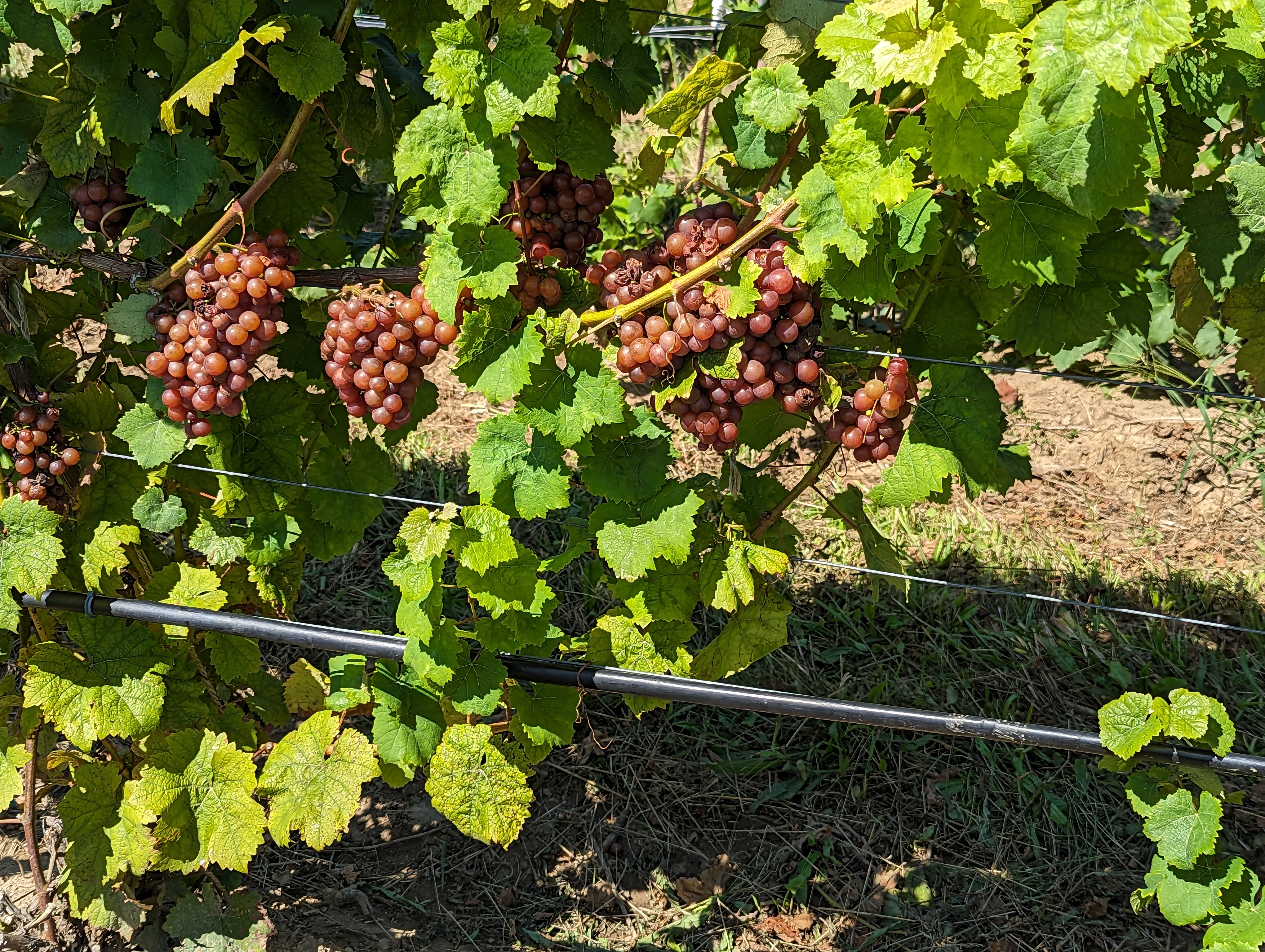 Berries exposed to sunlight also tend to develop more aromatics. To maximize this, growers will pull the leaves off the base of the shoots to expose the fruit (this also allows more airflow, lowering the humidity in the canopy and making it harder for diseases to get a foothold). Leaf-pulling is a tedious process when done by hand, but the results are worth the effort and expense. Mechanical leaf-pullers have been developed that are more economical, but are a little less precise in what they remove—damage to fruit and shoots can occur. The Pinot Grigio in this vineyard was mechanically leaf-pulled, and the fruit is nicely exposed and the canopy opened up to allow air circulation. Pinot Grigio, a great variety for us, is scheduled for harvest in about 3 weeks. Our 2022 vintage won Double Gold at the San Francisco Chronicle Wine Competition and we are hopeful 2023 will be a worthy follow-on.
We're scheduled to start the earliest varieties (Niagara and Diamond) the week of Sept 11, and with this very welcome change in the weather pattern, we could see a great start to harvest.
Bob Green
PIWC Executive Winemaker
Report 1 - August 28, 2023 Pre-Harvest Assessment #1
It's the end of August, which means we are about 2 weeks away from the beginning of the 2023 Harvest. Harvest is always an unknown entity in the Lake Erie region; the transition into fall from summer can bring wildly changing weather patterns. Some for the good, and some not so good. And of course, a lot has already happened in this growing season that lays the groundwork for this year's quality and quantity.
Looking back, the 2022 harvest was characterized by an extraordinarily small crop. With less fruit to ripen, we generally expect the vines to be in strong shape at the end of the year. The winter was for the most part mild, with temperatures staying, for the most part, out of the single digits where damage to vines can occur. The downside is that Lake Erie didn't freeze over to the extent it usually does, which reduces the effect it has on the grape belt in the spring. This was almost disastrous for us in mid-May when temperatures, which had been unseasonably mild allowing for an early budbreak, dipped significantly below freezing, damaging any buds that had started to open. The varieties affected most were the early-budding native varieties like Concord, Niagara and Fredonia. Location was also important, and some vineyards were more prone to damage than others. Most of the wine grapes, hybrids and vinifera varieties, had not pushed to the point where damage occurred.
The growing season after that event was characterized by cooler temperatures and overcast skies. In the vineyard, we use growing degree days (GDD) as a measure of how much heat we have available for growth. It is cumulative with the number increasing in relation to the temperature during the day, and ultimately over the growing season. Plants grow faster with more heat and GDD can be compared from year to year to help us determine the optimal harvest window. We are about 10% behind the average GDD for this date, and we are anticipating harvest will lag by 7-10 days. Of course, this can change If the weather pattern changes to a hot, dry September and October which is entirely possible (fingers crossed!).
We have also had, for the most part, ample rain. Maybe even too much rain at times. The upside to having water this available is that the vines are able to produce a full, healthy canopy, ideal for capturing the sun's energy and ripening fruit. Berry size is also larger due to the uptake of water from the soil, all of this pointing to a good-sized crop.
The downside is that disease pressure, specifically powdery and downy mildews, increases with humidity. Both of these require moist conditions, and a full canopy helps trap moisture, creating an ideal environment for them to thrive. Infections show up on the leaves causing them to turn brown and dry up, and on the berries, drying them up and potentially causing an off-flavor if untreated. Our growers have been hard at work keeping the vines as clean as possible, and in most cases, we should not see too much negative effect from this.
So, in summary: a little behind, a little wet, and it all could change next week. Welcome to Harvest 2023!
Bob Green
PIWC Executive Winemaker
---
Local Grapes and Juice Availability
This year's crop is expected to be of above average size, although some varieties will be in tight supply, and we are optimistic (though we know better than to be hopeful) about the quality as well. We should have good availability for Local Grapes and Juices. You may also wish to consider our Fresh CA Grapes and Juices, Fresh Italian Juice, and Fresh Australian Juice options in addition to your locally grown purchases. We will be accepting pre-orders for grapes by the pound and ton. Pricing will be based on the volume you purchase. You can pre-order your local juice online or by phone and product must be picked up at the winery. Grapes will only be sold via fax or over the phone.
For all the details, visit our Local Harvest page if you are ready to purchase or just want more information.
We will have a better estimate of when you can pick up your grapes when it gets closer to harvest. These varieties are also subject to change due to Mother Nature and will be updated as the harvest and pre-sale date nears. Check our Latest Harvest Info page for most current information on varietal availability and ready dates.
Visit our Grapes and Juices pages to stay up to date on all developments Also like us on Facebook and be sure you are on our email list to ensure you don't miss any Fresh Grapes and Juices news.