The Kisses Trio - Ice Style Dessert Wines
---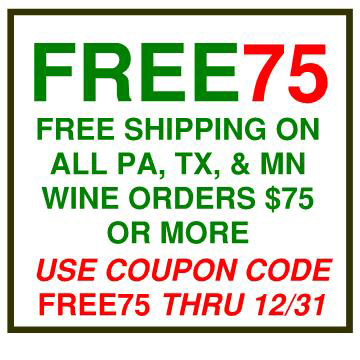 NEW! Try Scarlet Kisses - our special limited edition Cab Franc ice-style wine!
While we make many fine wines that have won awards at national and international competitions, our Vidal Blanc ice style wines – The Kisses - are our signature and perhaps what we are best known for. These amazing wines present the kind of fascinating, memorable, and unexpected taste experiences that appeal to a wide array of wine lovers, even those who don't think they like sweet dessert wines. Like the Niagara-On-The-Lake region just across Lake Erie from us, our excellent vineyards and snowy and icy winters that start soon after harvest season create the perfect setting for making delectable late harvest dessert wines from frozen grapes. Our traditional ice style wine – Eskimo Kisses – has been consistently well received in competition for many years, routinely winning gold at competitions across the country.
Our Kisses are an incredible value in the premium dessert wine category - at about half the typical cost of Inniskillin or Dolce. Available in traditional 375mL size at $29.99 AND NOW in Little Kisses 200mL size for only $17.99, easily finished in one sitting and perfect for stocking stuffing, for solo Kisses lovers and for couples who want to share a private Kiss!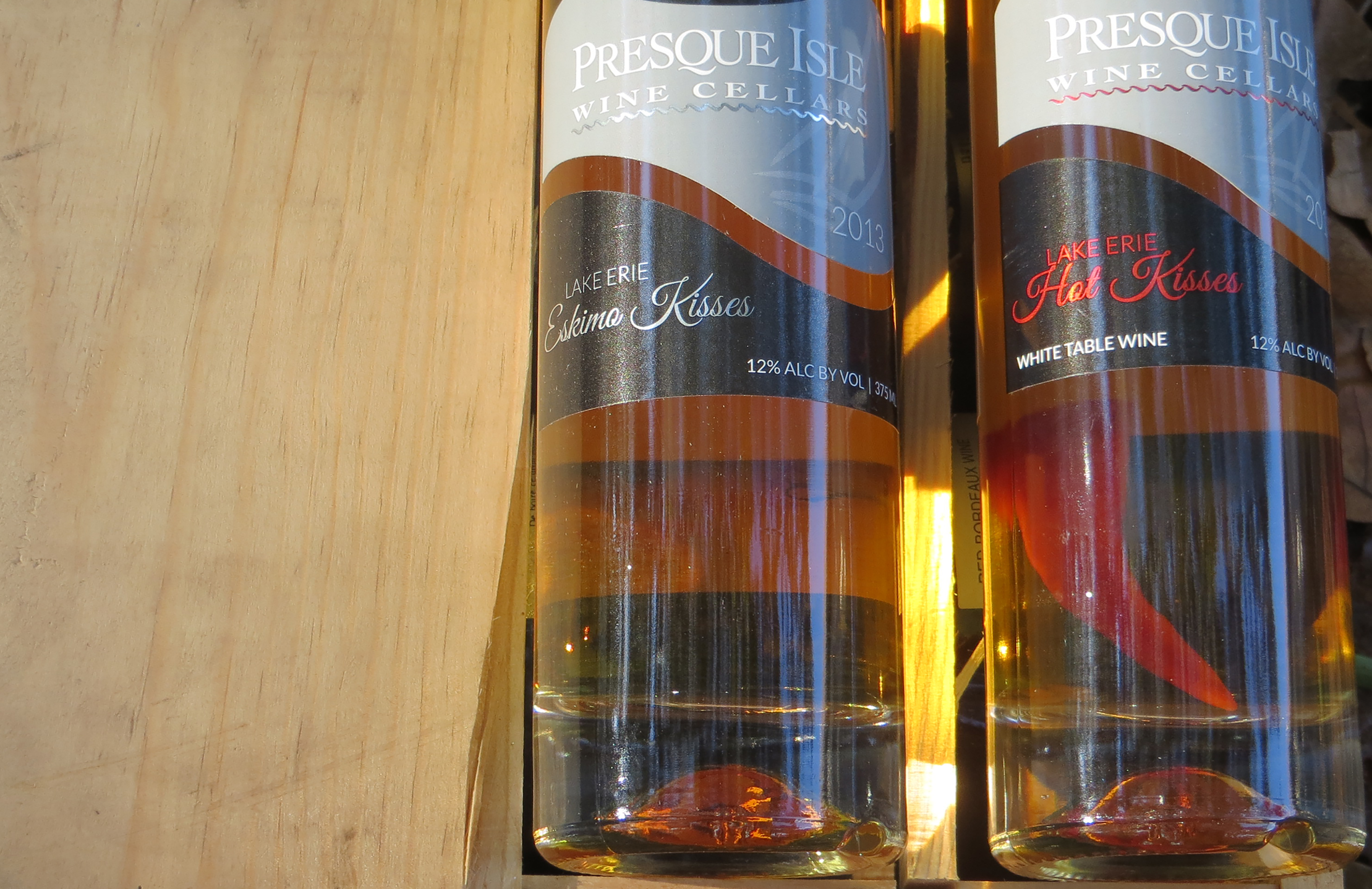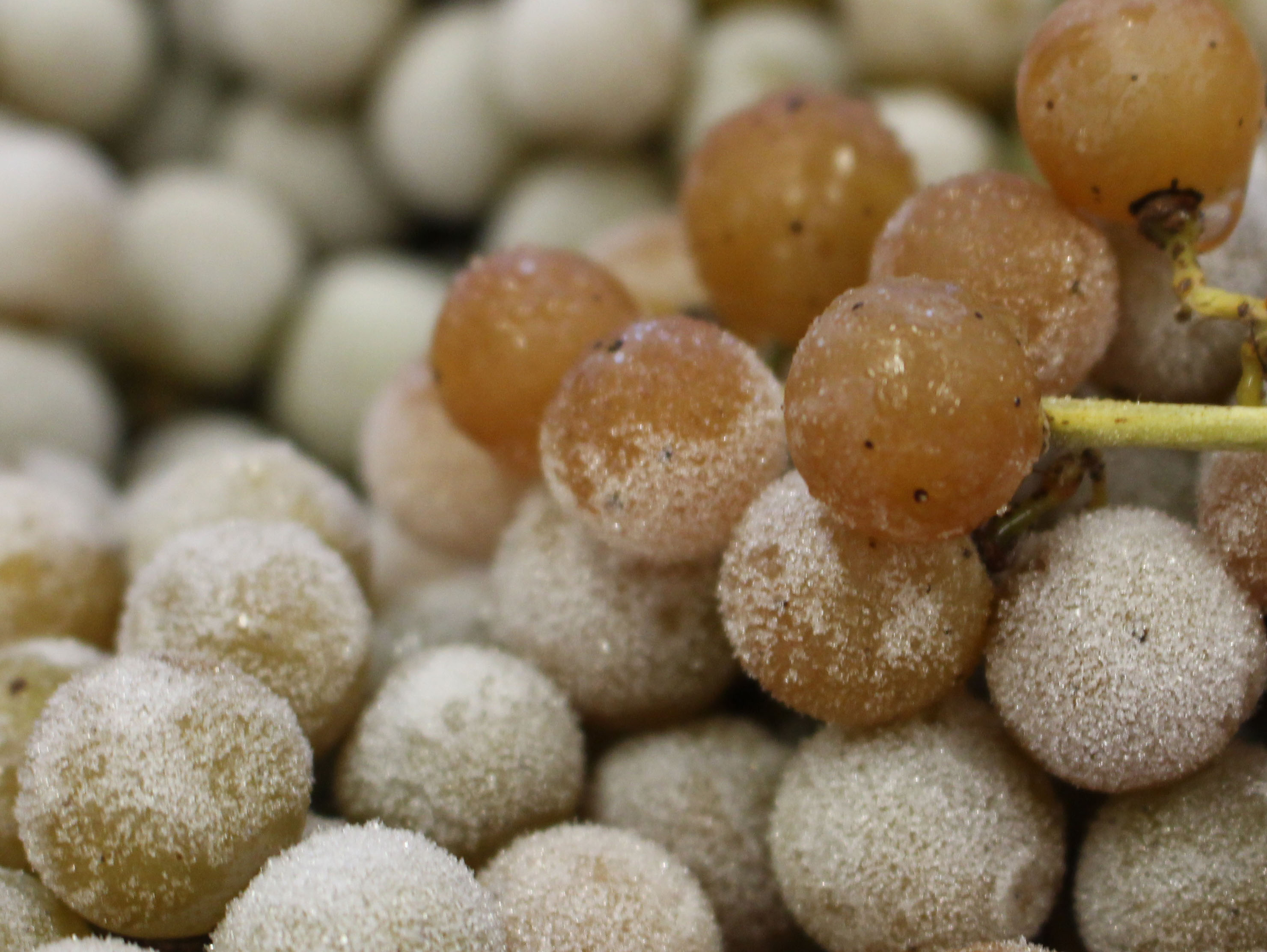 "We judged seven best of class flights, and almost all of the wines were exceptional...Presque Isle in Pennsylvania makes some fabulous dessert wines, and if you can find their Lake Erie Eskimo Kisses, made with Vidal, buy it. I actually drank the whole glass, which never happens at a judging."
Jeff Siegel, Dallas, TX - The Wine Curmudgeon
More love from The Wine Curmudgeon for our Eskimo Kisses
Our Kisses Trio ice style wine line consists of three products – a traditional late harvest ice dessert wine called Eskimo Kisses, a chili pepper infused version called Hot Kisses that is a remarkable and perfect blend of sweet and hot, and our cinnamon infused version called Cinnful Kisses that is a wonderful flavor blending of sweet and savory with the rich aromatics of cinnamon.
Click here to download our Presque Isle Wine Cellars Kisses Trio catalog pages.
Download our complete Wine Catalog
The Kisses are value priced in the late harvest and ice wine dessert wine category and coupled with the range of amazing flavor experiences they offer, these three wines have great crossover appeal beyond those customers looking just for classic dessert and ice wines. They are a perfect accompaniment to finish off an elegant dinner party for friends, they pair wonderfully with Indian and other spicy foods and with ice cream, and as a trio they make for a fascinating tasting showing how the introduction of pepper and cinnamon profoundly alters the flavor profile in unexpected and delicious ways.
Download our Kisses Trio Dessert Pairing Recommendations
Download our Kisses Trio Cheese and Savories Pairing Recommendations
We have also found that The Kisses are a great foundation for making wonderful and inventive cocktails. With their sweetness they can replace simple syrup in craft cocktail constructions while introducing a whole new universe of flavor characteristics. We have worked with the craft mixologist at The Cedars Social, one of the pioneering craft cocktail bars in Dallas, Texas, to develop some fantastic cocktail recipes around the Kisses. Click here to download our Kisses and Tails cocktail recipe collection. These recipes are designed to be simple and easy to make at home so get mixing and Enjoy! If you come up with your own cool recipe, please share it with us and we'll add it to the collection.
So make the most of your Kisses bottle and start things off by making some great pre-dinner cocktails with it and then finish off the bottle and the evening après dinner with your dessert.
---
NEWS FLASH for TEXANS - The Kisses are now available at all 9 Central Market stores - 5 in DFW, 2 in Austin, 1 in Houston, and 1 in San Antonio - in the state and at Bear Creek Spirits in Colleyville. We are working with Redoux Wine as our Texas distributor and we will be conducting in-store tastings at each of the Central Market stores in the coming days and weeks. We hope to see y'all there! See current Tasting Schedule.

Kisses Three-Pack

1

Average rating:

$98.97

$89.99

$49.99

$69.99

Hot Kisses

6

Average rating:

Starting from $17.99

Starting from $17.99

Starting from $17.99

$107.94

$99.99

Starting from $17.99