Gold Medal Wines
---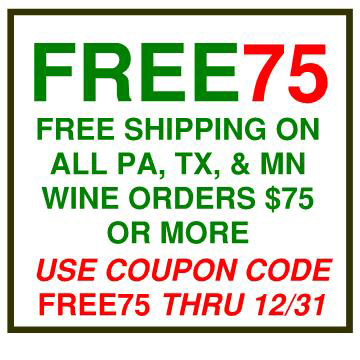 Explore the best of the best in this collection of all our available wines that have been honored with Gold Medals in recent competition. From our legendary Kisses dessert wines, to our dry red wines, to our classic dry and semi-dry whites, to our great sparkling wine, to our famous regional sweet Lake Erie labrusca wines - all those that have won the gold are here.
Remember also to browse the rest of our collection for your favorite wine types. We don't enter all of our wines in competition and those we have that haven't won Gold - yet - are still great wines you may enjoy perhaps even more.
Learn more about all our Award Winning Wines and the competitions we typically enter.
Download our complete Wine Catalog.
Starting from $17.99

$15.99

$19.99

$14.99

$15.99

$28.99

$29.99

$27.99

$24.99

$28.99

$28.99

$23.99

Freeport White

1

Average rating:

$11.99

Touriga Nacionale Port

1

Average rating:

$29.99

Hot Kisses

6

Average rating:

Starting from $17.99

Kisses Three-Pack

1

Average rating:

$98.97

$89.99

$49.99

$105.99

$99.99

$15.99

Blushing Heron

3

Average rating:

$10.99

$16.99

$10.99

Creekside Niagara

6

Average rating:

$10.99

$69.99

$0.00

$15.99

$15.99